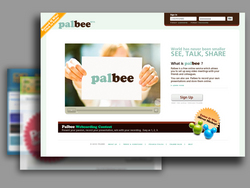 Creative, interesting content is at least as important as high quality service
Seoul, South Korea (PRWEB) July 13, 2008
Palbee.com has released a new version of its free online video meeting and collaboration service. The Palbee team has completed a total overhaul of the way people use the web site to start meetings with anyone at all, whether they are a registered Palbee user or not. The team has made the process much more intuitive, easy, and transparent. Additionally, new collaboration and video meeting tools in the meeting application itself give users a custom-tailored platform where they can emphasize the parts of the application that are important to the meeting. Finally, in celebration of this new look and feel, Palbee.com has also launched a presentation contest, where users from all over the world can compete to win cutting edge electronics that are exclusively available in South Korea. Palbee.com is produced by Zenitum Inc.
In the new design each user of Palbee.com has one personal Meetings page to coordinate a complex meeting schedule. This page functions as a kind of collaborative MySpace or Facebook page. A user's currently opened meetings, those scheduled for later, and those to which the user has been invited are all listed. Additionally, the user's recordings and favorite recordings are also displayed so that visitors to the page can see them.
Most simply, users can create meetings immediately using their Meetings page interface. These created meetings are then listed on their page, and any other user visiting their page can join with the click of just one button. These publically listed meetings can also be password-protected for secure communications.
The personal Meetings page can also be used to schedule meetings for a later time. With just a few clicks a Palbee user can schedule a meeting for any date in the future. A user can also type in the usernames of any other Palbee user to invite them to the meeting. After the information is submitted, the invitations show up instantly on the invited user's personal page. When the meeting is begun by the inviter, a join button appears next to the scheduled meeting on the invitee's page, which they can use to join the meeting.
Palbee users can also invite anyone, whether they are a registered Palbee user or not, to a meeting currently in progress. The host or any participant in a meeting can copy a URL from the meeting interface and give it to anyone, who can follow it to join the meeting. Up to ten people can participate in a meeting at the same time.
The meeting interface can also be customized based on the purpose of the meeting. The interface includes support for ten users to communicate with both video and audio, and a large white board area which can be used to show graphics, PowerPoint presentations, and to draw illustrations. If meeting participants only want to see other participants' video feeds, each participant can minimize the white board area and give more screen real estate to the video bank. If meeting participants want to focus on the white board for a presentation or other collaborative activity, each participant can minimize the video area and maximize the white board.
The monthly Palbee Webcording Contest has also begun this month, and is running from now until the end of July. Subsequent contests will be held each month, with a quarterly contest prize as well. One of the features of the Palbee.com web site is the ability to record and play back online presentations using Palbee's online meeting interface. In much the same way as YouTube videos, users can create a library of presentations on any subject and display them on their personal pages. The Palbee.com team is very interested in developing a quality selection of presentations on every conceivable subject. "Creative, interesting content is at least as important as high quality service," said Matthew Weigand, Project Manager at Palbee.com. "On today's Internet, interesting and original content is the one and only true resource." He hopes that Palbee.com will become a treasure trove of presentations on a large number of topics; a kind of audiovisual Wikipedia. This contest is designed to stimulate the development of a large body of audiovisual knowledge and entertainment.
To participate in the contest, visitors must register at the Palbee.com web site and record a presentation in the English language using Palbee's online presentation recording service. Then, using the same email address that they used to register, users must submit the URL of the recorded presentation to the contest email. Notable entries will be posted on the Palbee blog throughout each contest month. First, second, and third place winners will be chosen at the end of each month from all of the entries received during the contest period. For more information about the contest, check out the Palbee web site and the Palbee blog.
About Palbee.com
Palbee combines several features of mobile phones, email, and online messengers into one online application that requires only a copy and paste to use. Anyone can use Palbee for work - in marketing, sales meetings and conferences. Anyone can use it at school to present or view lectures, school projects, and online tutoring. And anyone can use Palbee in personal life for contacting friends and family and sharing photos. The applications of Palbee are endless.
The Palbee team is committed to developing the application to support our users in their communication and knowledge sharing. They hope everyone enjoys the Palbee online service.
About Zenitum Inc
Zenitum Inc., the company producing Palbee.com, is an entertainment solutions developer focused on computer vision technologies headquartered in Seoul, South Korea. For three years, Zenitum has been developing unique services for both the mobile and web platforms including applications such as Facial Beauty Surgery and Facial Fortune Reading based on facial feature recognition technology. Recently, Zenitum has launched several web services harnessing its proprietary technologies.
For more information, please contact:
Matthew Weigand
Marketing Manager
Zenitum Inc.
+82-10-5877-3561
Matthew@zenitum.com
# # #