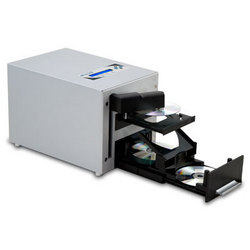 The CUBE fills a perfect niche in all markets for those looking for a simple and inexpensive solution in a robotic autoloader duplicator
Los Angeles, CA (PRWEB) July 14, 2008
Vinpower Digital announced today the release of The CUBE, a standalone, compact DVD / CD autoloader duplication system. This unit offers many of the options and benefits expected from the Vinpower Digital line of automated duplicators in a compact casing that is only dwarfed by its minute price tag. With a retail price below $500, The CUBE is extremely beneficial to those who need to create a small to medium quantity of copies in a short period of time without requiring the user to manually load and unload the discs.
This system sets itself apart from similar models on the market through its surprisingly reliable operation, simple program features and multi-master recognition capability. To top it off, The CUBE is a complete, standalone duplicator which does not require any form of computer connection. Whether the requirement is for 25 copies of a single master or 3 copies of 6 different masters, the user merely sets up the system one time and leaves it alone while The CUBE handles the rest. Plus with the easy to use AutoCopy function, the user can make quick copies right away without preloading the master into the hard drive. With an ample 160GB hard drive using dynamic partitions, The CUBE can store numerous master discs to be copied right away or at a later date.
"The CUBE fills a perfect niche in all markets for those looking for a simple and inexpensive solution in a robotic autoloader duplicator," said Ryan Swerdloff, VP of Marketing and Sales at Vinpower Digital.
The CUBE offers exceptional duplication capability at lightning fast speed along with market leading features like Account Management, Auto Counter, Multi-language support, Drive firmware upgrade capability, and so much more that helped make Vinpower Digital the preferred duplicator manufacturer.
About Vinpower Digital
Vinpower Digital is the leading manufacturer of standalone optical disc duplication equipment. With our corporate office in Los Angeles, California, USA and production offices in Taipei, Taiwan, we have the ability to deliver the most advanced and reliable standalone optical disc duplication controllers, manual towers, and robotic autoloaders anywhere in the world. As a true manufacturer, Vinpower Digital has the ability to OEM / ODM customized applications and equipment for qualified vendors on a number of levels. Never satisfied with good enough, Vinpower Digital constantly pushes the envelope to develop new features and enhance their existing product to stay in tune with the customers' needs and expectations.
For further information on any or all of Vinpower Digital's line of duplicators please visit our website at http://www.vinpowerdigital.com.
# # #