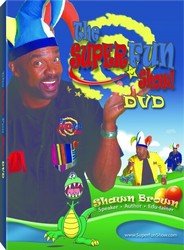 Atlanta, GA (PRWEB) July 16, 2008
Come along with the Pied Piper of Early Childhood, speaker/author/edu-tainer Shawn Brown, as he gets kids moving and grooving, learning and burning (calories) in The Super Fun Show! available on DVD Aug. 5 from Role Model Productions.
The Super Fun Show! is a curriculum enhancement program that introduces children to an exhilarating environment and encourages them to explore the world around them. Combining fun, upbeat songs with high-energy movement - a key to engaging children and holding their attention, ultimately helping to imprint each lesson - the DVD features both live-action and animation and works to develop children's motor skills, increase their aerobic activity and introduce interesting new subjects. Best of all, kids get to enjoy a great workout for the mind, body and spirit cleverly disguised as one big silly, outrageous party!
The multi-talented Shawn Brown - motivational speaker, actor, comedian, musician and educator - has such a great time singing, dancing and telling stories, kids won't be able to resist joining in on the fun. In 1985, he wrote, produced and performed the huge novelty hit "The Rappin Duke" song, as a tribute to the late, great John Wayne.
The Super Fun Show! features "The Super Fun Show," a great warm-up segment; "On the Rug," a Hokey-Pokey type song and dance; "Count to 100," which helps kids learn to count to high numbers; "The Dino Song," which introduces viewers to the Tyrannosaurus Rex, the triceratops and the stegosaurus; "The Story," a tribute to dinosaurs in a dramatic, comedic and hypnotic storytelling session with animations and all; and "Using the Count to 100 Song," a tutorial for teachers.
Previously released by Shawn Brown are five CDs: "Super Fun Chants" ($12.99), "Super Fun for Schoolagers" $14.99), "Super Fun Show!" ($14.99), "Super Fun Transitions" ($9.99) and "The Shawn Brown Show" ($13.99). Future CDs to be released later this summer are "Young and Restless Jazz" and "Even More Super Fun!"
Recommended for ages 3-9, The Super Fun Show! DVD is 25 minutes and will be available for a suggested retail price of $14.98. For more information or to order products call toll free 1-888-284-6695. Visit http://www.superfunshow.com.
About Shawn Brown
Originally from Chicago, Shawn Brown joined the US Air Force and along with his military duties, entertained the troops as a featured performer in numerous Air Force showcases and military talent shows throughout the United States and Europe. He moved to Los Angeles in the 1980's where he worked as a standup comic at popular clubs performing a unique act that combined original music, rap and impersonations. In 1985, he wrote, produced and performed the huge novelty hit "The Rappin Duke" song, as a tribute to the late, great John Wayne. Following on the heels of this mega-seller, Shawn toured as the opening act for several popular groups including New Edition and Stevie Wonder and went on to became a morning DJ for radio station KDKS in Shreveport, Louisiana. He continued his career as a morning drive announcer in Cincinnati, Ohio until he began writing comedy "bits" for nationally syndicated radio super jocks Tom Joyner and Doug Banks. After returning to Chicago he continued working as a comedian and pursuing comedy writing while attending Chicago State University. He performed regularly with a group of Chicago notable comics which included Bernie Mac and Adele Givens. In 2001 he turned his talents to the educational market and began in-house field trips to motivate kids to get moving and learn about the world around them. From dinosaurs to opposites, from science to nutrition - the "Super Fun Show's" educational program covers a lot of themes important to the growth and development of the young mind.
As a result of these popular performances in schools, Shawn is now a well-sought out keynote speaker and presenter at early childhood conferences and exhibits all over the country. Most recently he has presented or was a keynote speaker at these conferences: the 20th Annual Southern Conference on Children, Georgia Preschool Association Annual Conference, Region IV Head Start Conference, NCCA Annual Conferences, Bright from the Start Conference, Headstart Spring Conference, Northwest Tennessee Headstart Association, Kentucky Headstart Association, HAEYC (Houston) Annual Conference, BAEYC (Bermuda) Annual Conference, Georgia Headstart Association Conference, Wyoming Department of Family Services conference, Early Learning Coalition of Florida, Arkansas Early Childhood Association Conference and the New Mexico Childcare Association.
Press Contact: Andrea Blain
Andrea Blain Public Relations
9750 Crawford Avenue
Skokie, IL 60076
Phone 847-933-9884/Fax 847-673-5836
andrea @ andreablainpr.com
###