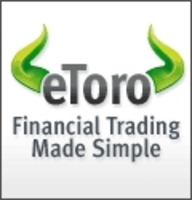 Limassol, Cyprus (PRWEB) July 15, 2008
eToro launches yet another new version of its ground-breaking and successful platform, with new features and languages that add even more appeal to this unique trading software.
At the top of the new features list is the extensive changes eToro has implemented to the platform's charting tools. All of the eToro charts, including the Forex Match arena in which traders pit currencies against each other in a tug of war and the live currency charts in the eToro lobby, now give traders the option of viewing candlestick charts, support and resistance levels, trend lines and trend channels. These charting features are sure to provide eToro's traders with the extra information they need for making trading decisions.
Along with the new charting tools, eToro has made new additions to its already impressive selection of currency pairs available for trade. The five newcomers to eToro's family of trading instruments are AUD/JPY, CAD/JPY, CHF/JPY, EUR/AUD and EUR/CAD. As cross currency pairs become more and more popular in the forex trading community, these new pairs are bound to be a hit, as well as contributing to the flexibility eToro offers its traders.
The quest for providing the ultimate and the most flexible forex trading experience also led eToro to offer a wider range of leverage. The new and improved eToro platform lets traders select their leverage from a range of 1:50 to 1:400 in most of the trading arenas. This wider range of leverage suits both the most conservative as well as the most risk loving style of trading.
In addition, eToro now offers a new localized version of the innovative eToro trading platform in Japanese, in order to better accommodate the many Japan based traders using the eToro software. Japanese now joins the many languages that eToro is already available in, which include German, Spanish, Chinese, Arabic and Russian.
And, as usual, eToro never forgets to take care of its developing forex trading community. In order to provide a serious discussion space with no needless distractions eToro now provides a whole chat room available only to real money traders. Of course they are still more than welcome to share their expertise with the practice players by logging into the practice chat or posting in eToro's active forums.
With this winning combination of the old eToro advantages, which include simplicity and a stunning visual interface, and the new additions to its arsenal of features, eToro is bound to stay ahead of the pack in the competitive world of online forex trading.
###