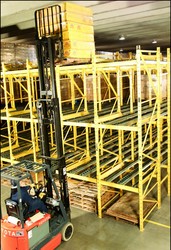 The cold rolled steel is more rigid and economical. When you mix and match structural and cold rolled steel rack, you get the best storage at the best price.
Torrance, CA (PRWEB) July 15, 2008
When constructing a new warehouse or upgrading an existing one, too often material handling becomes an afterthought, which is a serious mistake. To optimize storage density, efficiency and ROI, distribution, Steel King is offering managers tips for material handling along with warehouse design.
"Expanding a warehouse or moving to a new one is an opportunity to improve your bottom line whether you're running out of storage or launching a new product line," says Kevin Curry, National Accounts Manager for Steel King, a major designer and manufacturer of warehouse material handling, storage and safety products. "Start at the dock doors where the finished goods are shipped and work backwards toward raw material storage. Everything in between needs to be considered to achieve the most efficient material handling, the lowest labor and capital costs, and the greatest ROI."
To get the most out of any warehouse expansion or move, warehouse managers should seek material handling expertise that will complement warehouse design from the start. The right vendor or integrator, for instance, will analyze a customer's unique product mix or inventory of SKUs, aiming to achieve optimal storage rack density and selectivity while eliminating unnecessary handling or movement.
This requires selecting the right storage rack system and material handling equipment to achieve optimal material handling flow.
To maximize rack longevity while minimizing maintenance and cost, it's important to work with a rack vendor such as Steel King that's capable of manufacturing both structural steel rack that's hot rolled out of the mill and cold rolled steel rack that's roll formed from sheets of coil.
"The structural steel provides heavier capacity, a lower profile and more impact protection with smaller cross sections," says Bob Ferrer, Sales Manager at Cardinal Materials Flow, a material handling and storage system integrator. "The cold rolled steel is more rigid and economical. When you mix and match structural and cold rolled steel rack, you get the best storage at the best price."
A clear eye for the right material handling equipment is critical as well to coordinate with warehouse design. The right equipment will reduce forklift traffic, wasted movement and handling, perhaps adding automation where appropriate.
"To get the greatest bang for your warehouse design buck, focus on the 20 percent of product that requires 80 percent of warehouse movement," says Ferrer. "Make sure these fast movers are efficiently picked and moved out the door. Grouping them in pick modules near shipping docks can help, as can automating with conveyors or AS/RS cranes."
The right vendor should also notice details such as whether existing racks are damaged in front. This is common when narrow aisles cause forklifts to hit the rack when turning. This can indicate a need to widen aisles or reinforce the rack in front via enhancements such as Column Core by Steel King, which can extend rack life and prevent downtime.
So whether warehouse managers are building a distribution center from scratch or expanding an existing one, they must remember that they can't let material handling be an afterthought. They must plan for it up front, right along with warehouse design, to get the most out of their capital investment for decades to come.
For more info, contact Donald Heemstra at Steel King, 2700 Chamber St., Stevens Point, WI 54481; call 800-826-0203; email: dheemstra @ steelking.com or visit the website http://www.steelking.com.
###