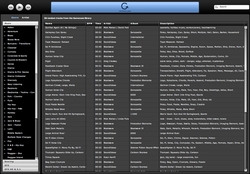 We're thrilled with the response we've had so far from musical copyright holders and top gaming publishers
Los Angeles, CA (PRWEB) July 15, 2008
Resnick Interactive, a software developer and leading provider of quality audio production for video games today announced a web offering aimed at the video game development industry. Gamecues.com allows its users to efficiently acquire original music, scoring clearances and HD sound effects. The service is comprised of tools specifically developed with the game makers needs in mind.
While tapping into the growing demand from video game creators for music, that can be legally used in productions, the system provides independent artists, labels, and copyright holders an opportunity to license musical works directly to developers worldwide.
"We're thrilled with the response we've had so far from musical copyright holders and top gaming publishers," said Todd Resnick, Chief Executive Officer at Resnick Interactive. "We've got an innovative approach to music acquisition and licensing in video games, it's simple, straightforward and it's in line with the needs of the industry."
As part of its services, developers can create a variety of licenses, build projects that organize and the assigning of cues to acts, levels and environments, input production notes, choose from a multitude of file types, bit rates, and sample rates including HD 5.1 sound effects.
Gamecues proprietary technology gives its vendors commanding feature sets to access and view properties of their sales, licenses, intuitive library management tools, and real time monitoring of how their works gain traction.
To Date, many well known publishing companies, and independent rights holders are in talks to bring in excess of 1,000,000 copyrights to the service, among them, some of today's modern musical masters.
About Resnick Interactive Development, LLC
Established in 2000, Resnick Interactive is a boutique talent acquisition and audio production business operating in the video game industry. Todd Resnick has been the Executive in charge of post production on over 50 game titles with a number of foreign developers and publishers.
http://gamecues.comhttp://resnickinteractive.com
###