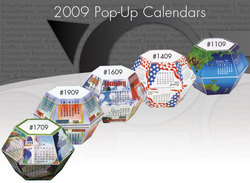 Industry studies by respected entities like the DMA and Time Magazine suggest that dimensional print pieces just perform more effectively and reliably than other vehicles. It's been shown, for instance, that dimensionals can achieve near-perfect audience recall rates; and that average response rates are more than double those of traditional flat mail
Carol Stream, IL (PRWEB) July 15, 2008
Perrygraf, a leading provider of dimensional print solutions that spin, pop, and slide to build corporate image and drive audience brand interaction, today announced a new selection of 2009 Postage-Saver Pop-Up calendar formats that meet USPS standards for letter-size rates. This means they mail for up to 50% less than standard flat-rate mail, while still providing two separate imprint areas consistent with previous, larger Pop-Up formats.
The new postage-saver sizes, available in five full-color themed designs, measure 5 ¾" x 5 ¾"; mail in their own 6" x 8" envelope; and cost less than one dollar each when printed in quantities of 500 pieces or more. Customers simply specify the logo(s) and/or information to feature on each imprint area, which can incorporate two separate messages. Because the calendars are in stock and ready to ship, total turnaround time averages just 1-3 weeks. In addition, Perrygraf offers a new line of three specially sized "Slippers" greeting cards, which are designed to carry additional messaging and slip into the envelope along with the Pop-Up.
"We mail each Postage Saver Pop-Up flat, in its own custom envelope," explains Don Hoff, director of sales & marketing for Perrygraf. "If the customer has ordered a Slipper greeting card, that's imprinted with the customer's specified message and tucked in as well. Customers simply sign the Slipper card before sealing the envelope. Either way, a colorful Pop-Up springs out of the envelope upon opening; and the standard, split-year, or academic calendar format is often saved or passed along to others. The presentation makes for a very unique, memorable holiday greeting, employee recognition, event announcement, or customer thank-you that's proven to grab more attention than a tradition flat mailer."
"Industry studies by respected entities like the DMA and Time Magazine suggest that dimensional print pieces just perform more effectively and reliably than other vehicles. It's been shown, for instance, that dimensionals can achieve near-perfect audience recall rates; and that average response rates are more than double those of traditional flat mail," Hoff observes. "Our 2009 Calendar Pop-Ups are a quick, extremely affordable way to stand out and perpetuate pass-along in an age when flat print is often discarded, and e-mail is frequently ignored or deleted. And customers looking for more unique, innovative shapes can choose from our extensive selection of custom Pop-Ups, including tissue holders, banks, and other colorful, functional designs. We also offer interactive slide and wheel formats that can pack pages of information into a single portable tool."
For more information on Perrygraf's entire line of 2009 Postage-Saver Pop-Ups, plus details on their full range of custom Pop-Up shapes and styles, visit http://www.perrygraf.com/pop or call 1-800-423-5329. Free samples are available.
About Perrygraf
Perrygraf is a premier industry resource for dimensional print solutions that slide, spin, pop up, light up, and even make noise to grab attention and drive audience response. The company pioneered the original "slide chart" concept in 1934, and has evolved into an innovative purveyor of unique, American-made print communication tools that help major companies around the world enhance strategic results. The company designs, prints, assembles and ships all products from its fully automated headquarters and production facility in Carol Stream, IL. Specialized staff includes a range of graphic designers, postal experts, and strategic marketing consultants who help customers leverage the versatility of dimensional print. For more information, visit http://www.perrygraf.com .
###