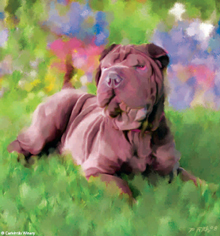 Sophie has found a wonderful forever-home and her affiliated rescue group, South Bay Purebred Rescue, should get some well deserved recognition for their devotion to saving animals. As one of our Bark Partners, we hope this helps maximize the donations we give to the group
Buellton, CA (PRWEB) July 15, 2008
Dog Lovers Wine Club has just completed shipping of their July club shipment. The shipment contains a red wine blend graced with a painting of Sophie the Shar-Pei.
Sophie arrived at Monterey County Animal Services as a stray. She was in need of eyelid surgery for "entropion" where the eyelids roll in on the eyes causing corneal ulceration and terrible discomfort for the dog. Because of the need for this surgery, the shelter couldn't put her up for adoption. South Bay Purebred Rescue took her and had the corrective surgery performed while she was under anesthesia for her spay. She also had an ear flush done as her ears were both quite infected.
She almost didn't make it up for adoption from South Bay Purebred Rescue either because her foster home came close to keeping her! She's the cutest squiggly wiggly puppy! Her new family adopted her the first day she became available - which just so happened to be the father's birthday.
On June 1, 2008, the Lam family adopted Sophie, a 9 month old Shar-Pei from SBPR because they were looking for a second dog and would only consider a rescue dog.
Sophie was very affectionate but did not know any commands (such as sit), liked to jump on people, and after trying to lick the skin off your hands, will begin nibbling on your fingers. Because Sophie is very smart, Sarah, the 11-year-old owner, taught her the 'sit', 'down' and 'off' commands within a week. Sophie was a big hit at school when Sarah brought her in for show-and-tell and educated the 5th grade class about Shar-Peis and rescue organizations.
"Sophie has found a wonderful forever-home and her affiliated rescue group, South Bay Purebred Rescue, should get some well deserved recognition for their devotion to saving animals. As one of our Bark Partners, we hope this helps maximize the donations we give to the group," said Matt Hahn and Fleet Hamilton of Dog Lovers Wine Club.
Her label graces a full-bodied 2004 Red wine from Edna Valley, California. See her here.
Summer is here! And to celebrate, everyone who signs up for a wine club membership at http://www.dogloverswineclub.com will receive their first wine shipment FOR JUST $2. It's the "2 Buck Mutt" special and it's the perfect gift for that special dog lover in your life.
Here's how Dog Lovers Wine Club works:
Visit http://www.dogloverswineclub.com to redeem your "$2 Buck Mutt" discount. You can choose to receive wine shipments monthly, bi-monthly or even quarterly. Each month, the wine is accompanied by inspirational stories of American families and the special Dogs that have touched their lives. Each wine label is illustrated by selected photos (and stories) submitted from dog lovers across the country. The wine shipments also include tips about dogs, tasting notes about each featured wine, the source of the grapes and suggested food pairings.
For more information, email us at info(at)dogloverswineclub.com or call toll free 877-919-WINE.
Media Opportunities: Video and additional images are available upon request. Interviews with the co-creators of Dog Lovers Wine Club are also available upon request.
Contact: Fleet Hamilton / 805-693-8990 / Fleet(at)DogLoversWineClub.com or
Matt Hahn / 805-504-4788 / Matt(at)DogLoversWineClub.com
ABOUT DOG LOVERS WINE CLUB:
Dog Lovers Wine Club is a boutique winery, based in California, which offers carefully crafted premium wine and illustrated labels to support animal shelters and rescue organizations around the country. Every shipment includes a new and inspirational pet story and photo, chosen from people who submit their stories to http://www.dogloverswineclub.com. Along with the personal story, the shipments include tips about dogs, tasting notes about the wine, the source of the grapes and recommended food parings. It's a unique way to celebrate life with dogs! Wine club memberships are available in monthly, bi-monthly or quarterly shipments.
Shipping States:
Due to individual state alcohol laws, wine shipments are legally limited to AZ, AK, CA, CO, DC, FL, GA, ID, IL, IA, LA, MI, MN, MO, NH, NV, NM, NY, NC, ND, OH, OR, TX, VA, WA, WV, WI, WY.
###