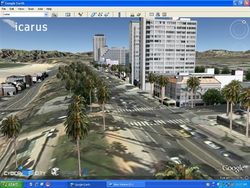 CyberCity 3D plans to capitalize on the momentum gained with Falcon Capital's fund raise by accelerating our publishing of 3D buildings on Google Earth. and expanding our efforts in the real estate and travel markets
El Segundo, CA (PRWEB) July 15, 2008
CyberCity 3D, a technology leader in 3D web publishing, today announced the completion of its $4.3 million Series "A" round of financing through Falcon Capital LLC, its investment banker and placement agent. CyberCity 3D will use the funds to expand its web publishing business operations, produce city models, for working capital, and to pay off existing liabilities.
"CyberCity 3D plans to capitalize on the momentum gained with Falcon Capital's fund raise by accelerating our publishing of 3D buildings on Google Earth. and expanding our efforts in the real estate and travel markets," said Kevin DeVito, CEO of CyberCity 3D.
CyberCity 3D currently has an inventory of over 700,000 3D buildings with over 350,000 of them published on Google Earth. CyberCity 3D will continue its focus on merging its cutting-edge 3D buildings and city models with Google Earth's ground-breaking ability to put the world's geographic information at users' fingertips. CyberCity 3D is actively seeking partners to market real estate and travel related web services associated with its 3D city models for the Web.
About CyberCity 3D:
CyberCity 3D builds interactive, geo-referenced, high-resolution, computer based, 3D city and terrain models for visualization, web publishing, navigation and simulation.
CyberCity 3D's models are used to develop and interact with 3-dimensional spaces and structures through visual exploration for the purposes of online advertising in the real estate and travel markets, city and architectural planning, and business development. Our target markets include travel, real estate, security, navigation, simulation, engineering, city planning, architecture, GIS, and entertainment.
About Falcon Capital LLC:
Falcon Capital LLC is an international group of consulting firms dedicated to providing a wide range of services to businesses of all sizes. In particular, Falcon works to deliver business development and placement capital to small and medium companies across a wide range of industries. Falcon International Consulting Limited, the lead partner of the group, serves a client base of over 1500 banks, institutions and others, including high net worth individuals located in 65 countries across 6 continents.
Future Efforts:
CyberCity 3D is preparing to launch additional 3D city models with Google Earth in the coming months and plans to work with real estate and travel sites to provide interactive 3D models of their properties and destinations.
For Further Information:
Kevin DeVito
310-760-2556
Media Contact:
Donna Kuehn
CyberCity 3D
310-760-2559
###