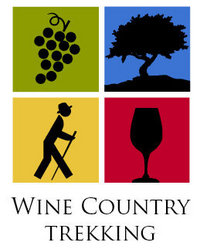 These new treks have been very well received by our customers, who have told us that they love experiencing the Wine Country on foot
Glen Ellen, CA (PRWEB) July 15, 2008
Wine Country Trekking, LLC, is pleased to announce that their signature vacation, the San Francisco to the Wine Country Trek, was recently recognized by National Geographic Traveler as one of their 50 Tours of a Lifetime. This active luxury vacation lets travelers trek from San Francisco to Glen Ellen in the heart of the Sonoma Valley over the course of ten days, enjoying premier lodging, fine wine, and world class food. Along the way trekkers walk over the Golden Gate Bridge, and through Sausalito, Muir Woods, and Point Reyes National Seashore. "We were thrilled to discover that many outfitters share our vision that travel should ultimately not be acquisitive and superficial but connect us more deeply to the planet and to the people in it," notes Norie Quintos, senior editor at National Geographic Traveler magazine. "The other wonderful thing we discovered is that one doesn't necessarily have to rough it to travel authentically and sustainably."
Two new short treks now offered in Napa and Sonoma
The San Francisco to the Wine Country Trek, like all vacations offered by Wine Country Trekking, is a luxury, self-guided, inn-to-inn hiking vacation, a concept well known in Europe that the company introduced in the United States. Building on the success of this concept, the company has responded to customer requests for short treks exclusively in the wine country by introducing two new active luxury vacations that include three days of walking and wine tasting in the beautiful Napa and Sonoma Valleys. "These short treks give people in the San Francisco Bay Area an opportunity, without traveling far, to get out of their cars and enjoy a walking vacation with all the amenities of the wine country. In a time of high gas prices, they are the perfect getaway or a wonderful addition to a San Francisco visit," said Mary Guerrazzi, one of the partners in the company.
The two new treks are specially designed to take advantage of the California Wine Country's world class food and wines. The Sonoma Valley Wine Tasting Trek allows travelers the opportunity to walk through the vineyards, mountains and quaint towns of rustic Sonoma Valley with opportunities for wine tasting at private winery estates along the way. The Napa Valley Wine Tasting Trek traverses the heart of Napa Valley's wine country, from Yountville with its unparalleled fine dining, to chic St. Helena, to quaint Calistoga. "These new treks have been very well received by our customers, who have told us that they love experiencing the Wine Country on foot," said Mary Guerrazzi.
###