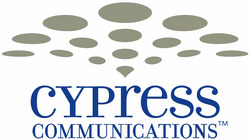 We were an early adopter of hosted VoIP technology; however, the service we received from our previous provider was unacceptable
Atlanta, GA (Vocus) July 15, 2008
Cypress Communications welcomes New Jersey-based Tisha Industries to the Cypress family tree. Serving the tri-state area, Tisha Industries will connect, communicate, collaborate and continue™ with Cypress' C4 IP™ hosted VoIP and unified communications solution.
"We were an early adopter of hosted VoIP technology; however, the service we received from our previous provider was unacceptable," said Christopher Kogler, chief operating officer at Tisha Industries. "But from the first meeting, I was impressed with Cypress Communications. The account executive came to do an on-site evaluation, and a Cypress engineer conducted a meticulous examination to understand our network requirements. The thoroughness of their evaluation immediately signaled that we were working with knowledgeable people who could design, configure and implement a solution that supports our organization's needs and further enables us to meet our goals."
"Best of all, Cypress stands behind everything they say and delivers what we need -- real-time communications that enable us to stay in constant contact with our customers, superior data services that support our heavy file transfer loads, and platform reliability to ensure that we continue communicating and can always conduct business as usual," Kogler continued.
As a multi-disciplinary marketing design firm, Tisha Industries' projects cover a wide spectrum -- from Web sites to packaging, marketing materials, branding and identity campaigns for small firms and Fortune 500 companies alike. Even with such a broad portfolio, Tisha Industries prides itself on devoting the same individual attention and delivering highly creative products to each customer. It's that unyielding commitment to quality and superior customer service that led them to hosted VoIP and unified communications under the branches of Cypress.
"With Cypress Communications, customers are not forced into a one-design-fits-all mentality. We work closely with each company to understand their goals and requirements before designing a solution. Since we manage the user experience from the desktop phone, across the LAN/WAN and on to our private IP network, Cypress is able to deliver a wider array of VoIP and unified communications features, tighter integration and a greater variety of company-specific configurations," said Frank Grillo, executive vice president of marketing at Cypress Communications.
Complete with options for voice and data services, handsets, multimedia collaboration tools, unified messaging and advanced PBX features, C4 IP is ideal for users in the professional services industries whose success relies upon voice and data communications. And with local Cypress presence in 29 major metropolitan areas and a network operations center manned around-the-clock, customers can rest assured that Cypress is working 24/7 to keep them connecting, communicating, collaborating and continuing business as usual -- no matter what.
About Tisha Industries:
Tisha Industries is passionate about creating winning design strategies for its diverse roster of Fortune 500 clients. Tisha's multi-disciplinary team of designers is committed to delivering unique and memorable design solutions for today's experience economy.
With a strong commitment to creative teamwork and exceptional customer service, their work is built upon three core concepts: conceive, clarify and create. The result: an innovative and rich product experience for consumers and increased market share for their clients in today's complex international marketplace. The company's Web address is http://www.tisha.com.
About Cypress Communications:
Boasting a 20-year legacy and 6,500+ customers coast-to-coast, Cypress Communications delivers voice, data and Internet solutions to small- and mid-sized enterprises, including a fully hosted VoIP and unified communications solution. Users benefit from integrated voice and data access, desktop phones, soft phones, local and long-distance, voicemail, collaboration tools and remote office functionality. From their computers, users can take advantage of productivity-enhancing applications like real-time presence, desktop video, unified messaging, chat, file sharing, and Outlook integration. As a Deloitte Fast 50 and Fast 500 award recipient, Cypress is recognized as one of the fastest growing telecommunication companies in North America. The company has also been recognized as one of Atlanta's Best Places to Work 2008 and awarded the 2008 TMC Lab Innovation Award, 2008 Innovator Award, 2007 Unified Communications Product of the Year, Communications Solutions Product of the Year, and 2007 Product Innovation Award for Business Continuity in the category of Hosted VoIP. The company's Web address is http://www.cypresscom.net.
From June 16 to September 16, 2008, Cypress Communications is offering the chance for one lucky company to win 2 years of free hosted VoIP and unified communications in the Get Your VoIP On™ giveaway. Details are available online at http://www.cypresscom.net/freevoip.
© 2006-2008 Cypress Communications, Inc. The Cypress Communications logo is a service mark of Cypress Communications, Inc. C4 IP is a trademark of Cypress Communications. Get Your VoIP On is a trademark of Cypress Communications. Connect, communicate, collaborate and continue is a trademark of Cypress Communications. All other marks used herein are the property of their respective owners.
For more information, contact:
Heather Whitt
Cypress Communications
404-975-4128
hwhitt @ cypresscom.net
###