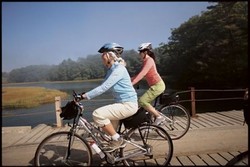 Freeport, ME (Vocus) July 16, 2008
The price of gas is the highest it has ever been, and many people are searching for alternate transportation. If you are wary of dusting off your trusty bicycle to ride it to the office, L.L.Bean Outdoor Discovery Schools has the perfect refresher for you: the Maine Coastal Camping Bike Tour. At only $299 per person, this weekend adventure (which includes a traditional Maine lobster bake!) may cost less than a few trips to the pump and change your thinking about riding a bike.
Guests on this tour will experience two days of the stunning Maine coastline while leisurely cycling around the rocky coast and rolling country of South Freeport, Maine. The trip is vehicle-supported, so participants need not worry about tiring out before the end of the day. There will also be plenty of opportunities to hop off the bike and experience the towns and waterfront along the way.
Day one begins at the Paddling Center on Casco Bay. From here, guests hop on their bikes (also provided) and take a scenic coast ride through the town of South Freeport. There will be time to explore the Town Landing before climbing back on the bikes and making way to Winslow Park, where a catered lunch will be served. The afternoon offers a visit to a working farm, a guided walk on wooded trails, and an interpretive talk. Back at the campground, a traditional Maine lobster bake will be served, and guests can take advantage of the dramatic waterfront views as the sun sets and the stars come up over Casco Bay. After breakfasts, guests hop back on the bikes for a ride through pastoral landscapes and ocean viewpoints to a local marina, where sailboats and fishing vessels are bustling. Guests may choose from 10- 15- or 20- mile biking options on day one and 15- 20- or 30-mile riding options on day two.
The Maine Coastal Camping Bike Tour is an affordable way to re-accustom your body to biking, and to rediscover the fun and excitement of getting around on two wheels (rather than four). All camping gear, bikes and helmets are provided, as is the assistance of experienced guides who will ensure a memorable experience while also developing a deeper understanding of the history and ecology of the area. The overnight trip is offered on summer weekends starting Saturday, July 12 through September 13 and is a one-tank drive for those in the New England area.
Since 1979, the guiding principles of L.L.Bean Outdoor Discovery Schools have remained the same: To promote the enjoyment of the outdoors and to foster an appreciation and respect for our natural environment. These foundations are inherent in every program offered — whether it is a two-hour Walk-On Adventure or a three-day trip. L.L. Bean retail stores are conveniently located along the eastern seaboard, making it easy, affordable, and convenient to try out a new activity or to get better at a familiar one. For more information on L.L.Bean Outdoor Discovery Schools, call 800-559-0747, ext. 37222 or visit http://www.llbean.com/ods.
Contact:
Stephanie Keister
TEL: 207-552-7562
E-mail: skeister @ llbean.com
Web: http://www.llbean.com/ods
Click Here for Media Kit
###