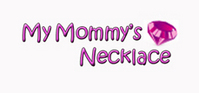 And to ensure your My Mommy's Necklace withstands your own toddler's Toddler Tug Test™, all our necklaces are backed by a replacement guarantee
Scottsdale, AZ (PRWEB) July 15, 2008
We all know "Mother knows best," the premise of a recent segment that aired on Fox 10's Arizona Morning show, (July 9, 2008), which featured products designed by moms, for moms. Included were Shannon Decker and Jasmine Olson, inventors and co-founders of My Mommy's Necklace, a line of chic, trendy necklaces designed exclusively for moms and able to withstand the taunting tug of a toddler.
Decker and Olson share a similar background with many of today's moms: full-time moms with full-time lives. Doing both and doing them well, often requires compromise.
"I'd go to put on jewelry in the morning and think, 'Why bother?'" laments Decker.
"I've always loved jewelry, particularly necklaces. Unfortunately, I couldn't find anything I could wear to work without having to take it off before picking my kids up at daycare," says Olson.
The two concur; style for the on-the-go mom is definitely overlooked.
Continues Olson, "I couldn't find the versatility I needed--chic, yet durable--and I thought other moms must have similar trouble."
After hearing each others' stories about broken necklaces and all too aware of curious babies' love for anything shiny, Decker and Olson decided it was time for a mom to take action.
After months of research--which included testing the final product with their children--My Mommy's Necklace™ launched. What sets My Mommy Necklace™ jewelry apart from others is what the two mom's call, Mommy Cord™. Mommy Cord™ is a unique, pliable material that allows the necklaces to stretch without breaking: the result, no more broken clasps or necklaces.
"And to ensure your My Mommy's Necklace withstands your own toddler's Toddler Tug Test™, all our necklaces are backed by a replacement guarantee," quips Decker.
"Our necklaces are stylish enough to be worn by any woman, baby or not," asserts Olson. "Our goal was to create quality, fashionable jewelry that we'd love to wear but that also kept up with a mom's 'extra' demands."
About the Company:
My Mommy's Necklace™ jewelry can be purchased at http://www.mymommysnecklace.com and many upscale boutiques. My Mommy's Necklace™ proudly offers a lifetime replacement guarantee. Should any necklace not pass your Toddler Tug Test™ simply send it back and it will be replaced for free.
###