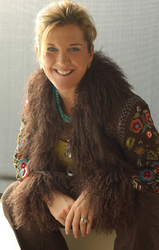 It is truly an honor to be in the company of some of the most renowned designers in the jewelry business.
Albuquerque, NM (Vocus) July 16, 2008
A familiar name and face in contemporary jewelry design – Carolyn Pollack of Relios Jewelry – will be back on the airwaves for a shopping network extravaganza this August 5th – QVC's "Designer Day". Pollack, who many know as the designer and face of "Sincerely Southwest" on the QVC network, will once again participate in the event which features QVC's most prestigious jewelry designers and their newest, most exciting designs. In addition, Carolyn and "Sincerely Southwest" have landed a coveted primetime spot – 2 full hours from 8pm to 10pm Eastern Time.
"I'm thrilled to be asked to appear on "Designer Day" again", says Carolyn Pollack, Lead Designer and Vice-President of Relios Jewelry. "It is truly an honor to be in the company of some of the most renowned designers in the jewelry business."
The variety of jewelry designers featured on Designer Day includes notable names such as Robert Lee Morris, Judith Ripka, Michael Dawkins, Ann King, and more!
"Designer Day" features the best of what QVC has to offer", says Carolyn Pollack. "There are a growing number of enthusiastic jewelry collectors who really appreciate the new designs and quality pieces that will be featured on the show."
…and the shopping doesn't have to stop once the show's over!
QVC shoppers who like what they see on "Designer Day" can visit ReliosJewelry.com and discover more fun and fresh coordinates to build their jewelry collections. They can also learn more about Relios' Lead Designer Carolyn Pollack and the design inspiration behind her made-in-the-USA jewelry. A lot more than meets the eye goes into Carolyn's handcrafted pieces. Each year Carolyn and Susan Chiasson, Relios Director of New Jewelry Development, begin by perusing an incredible assortment of natural gemstones when they visit various tradeshows seeking inspiration.
"Susan and I research and compile fashion, trend, and color information from several international and national sources", says Pollack. "We then create our own trend boards, including fabric patterns, textures, pantone color chips, sketches, and stone samples. We cover the walls of our offices in these boards, and just allow it all to sort of "soak in" as we develop our own vision for the next season's jewelry collections."
What emerges from that vision are the latest designer jewelry collections that Relios has to offer. Catch them on "Designer Day", or explore the full the full line at ReliosJewelry.com - handcrafted jewelry in natural stones and sterling silver – all made in the USA.
About Relios Jewelry
Relios Jewelry designs and manufactures more than 100 new "made-in-the USA" items per season in Albuquerque, New Mexico. Their moderately priced jewelry can be found online at http://www.reliosjewelry.com. Jewelry by Relios is made from real stones and recycled sterling silver.
###