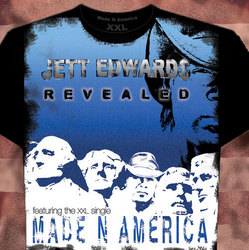 Jett Edwards has built a long-overdue international bridge to Japan and Asia with a combination of songs, performances, and business sense
Long Pond, PA (PRWEB) July 16, 2008
Wiggins Music Group Worldwide, Inc., in partnership with Dyme LTD (owned and operated by funk fusion co-creator Wayne Henderson), announces the release of Americana/Adult Contemporary artist Jett Edwards' "Revealed (XXL)" CD single, including tracks "Made N America" and "Blood Oil." Mr. Edwards, a proud supporter of Barack Obama, is excited about the use of his song "Blood Oil" by the Obama campaign. He looks forward to working with the Obama campaign in the near future and is in discussions regarding additional performances, and plans to give a special promotional version of "Blood Oil" away online to all Obama supporters.
WMGW, Inc. is proud to partner with Dyme LTD and Jett Edwards on this music release, songs from which are available on iTunes, Amazon, Napster, and eMusic. Mr. Edwards, a bass player, vocalist, producer, CEO, and Americana / funk music pioneer, has worked with classic and contemporary artists including James Brown, the Isley Brothers, Edgar Winter, Stevie Wonder, General Public, and Snoop Dogg.
In addition to the recent single release, Mr. Edwards also wrote and produced four songs for the African Mission 2008 and UNICEF that were performed in a live spectacular in Yokohama, Japan. The live CD and DVD recordings of this event are also now available from iTunes, eMusic, and at Starbucks locations in Japan.
"Jett Edwards has built a long-overdue international bridge to Japan and Asia with a combination of songs, performances, and business sense," said Gerald A. Wiggins, CEO of WMGW, Inc. "Jett's persistence has opened doors for artists, songwriters, producers, independent record labels, distributors, and investment companies worldwide to gain deep access into Japanese and Asian markets."
Now residing in Tokyo, Mr. Edwards was born and raised in North Carolina, the son of renowned gospel singer Hiawatha Edwards. Growing up in a musical household, he learned multiple instruments and appeared as a bassist on his father's LP before recording his first composition at the age of 14, "Lonely Man," released by the Philly Sounds label. Edwards also stormed the Gospel & Country music scene, where he won a Grammy with the legendary Blind Boys of Mississippi. He was one of the first black artists to perform at Nashville's Grand Ole Opry.
"WMGW gives the 'Revealed (XXL)' CD instant worldwide exposure," Mr. Edwards said, "through their ability to place the songs on leading electronic music distribution websites in North America, Europe and Asia. WMGW and Gerald Wiggins have treated me like one of the family; they've made themselves available 24/7 in support of this project. I'm proud to be a part of such a visionary team."
For more information, visit WMGW.net or JettEdwards.com.
About Wiggins Music Group Worldwide, Inc:
Gerald A. Wiggins, a Harlem native and Columbia University graduate, founded WMGW, Inc. The CEO and staff have over 20 years of experience in retail music distribution, in both traditional and digital services. The company prides itself on catering to clients' individual needs and maintaining a high standard of integrity while creatively navigating a rapidly changing industry landscape.
###