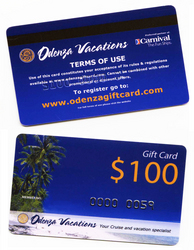 The addition of this new vacation gift card product compliments our business strategy of truly being the source for vacation incentives of all types. The vacation gift card enables the recipient to have a variety of vacation options to choose from. With fuel prices on the rise, there is no better time to offer consumers additional savings on travel packages
Burnaby, BC (PRWEB) July 16, 2008
Odenza Marketing Group unveiled its new vacation gift card this morning. The gift card entitles recipients to $100.00 off discounted retail vacations booked exclusively through OdenzaVacations.com.
Odenza is extremely pleased to offer a new electronic gift card solution that is designed to work with our Odenza Vacations online booking website. Increasingly popular with consumers, gift cards are a great way for companies to market their business, increase sales and generate repeat customers. "It's an extremely powerful solution for companies wanting to offer gifts or incentives at a much lower cost", says Pav Sangha, Director of Marketing.
The Odenza Gift Card is particularly ideal for use in subscription programs and consumer promotions as bonus gifts. It can also be used as a referral generator designed to increase sales. "The addition of this new vacation gift card product compliments our business strategy of truly being the source for vacation incentives of all types. The vacation gift card enables the recipient to have a variety of vacation options to choose from. With fuel prices on the rise, there is no better time to offer consumers additional savings on travel packages", says Pav Sangha.
Benefits of Odenza's Gift Card program:

Odenza Gift cards are easy to buy, easy to carry and easy to use.
Plastic Gift cards have higher perceived value than coupons.
$100 discount can be applied to all 7-day vacation packages.
Cards provide a more personal gift than cash, without requiring the giver to select a predetermined gift.
Why purchase Odenza's Gift Cards?

Cards are coded for inventory control purposes.
Generate repeat customers and referrals.
Increase sales.
Build brand identity. (Odenza offers branded gift cards on minimum orders of 5000)
For pricing or more information regarding the Odenza Gift Card please call Rick Peters, Director of Sales at 1-866-225-1068 or visit http://www.odenza.com
About Odenza Marketing Group Inc.
Odenza Marketing Group proudly serves some of the most prominent companies from all sorts of industries. We provide quality incentive marketing solutions that give our select clients a competitive edge in their market. Over the years, Odenza has developed strong relationships with its partners giving it the loyal and extensive client base that has proven to be an integral component in Odenza's success. As a leader in the premium and incentive industry, Odenza has proven to be the number one choice by consumers with a staggering 92.5% customer retention rate. Odenza is here to help you reach your goals.
Contact:
Pav Sangha, Director of Marketing
Odenza Marketing Group Inc.
1-800-515-5371 ext: 234
E-mail: psangha ( @ ) odenza dot com
Corporate website: http://www.odenza.com
Travel booking website: http://www.odenzavacations.com
###