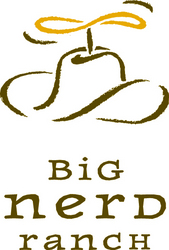 Atlanta, GA (Vocus) July 16, 2008
On the Road with Objective-C and Cocoa for Commuters, Sept. 27 to Oct. 3, 2008
If the mountain can't come to the Big Nerd Ranch, the Big Nerd Ranch will come to the mountains.
Big Nerd Ranch, Inc., premier provider of innovative training class for programmers, web developers and system administrators, announced today a new initiative to improve access to its widely popular combination Objective-C and Cocoa Bootcamp. The instructor team of Mark Fenoglio and Cocoa guru Aaron Hillegass are taking their Objective-C and Cocoa training class, which trains students from novice to Cocoa developer status in seven days, on the road to Santa Clara, CA, Sept. 23 to Oct. 3. The class, called Objective-C and Cocoa for Commuters, will be held at the Santa Clara Biltmore Hotel and Suites.
In a departure from the usual Big Nerd Ranch format, the new class will provide a schedule ideal for developers in the Bay Area, with class time running from 9 a.m. - 6:30 p.m. with lunches provided but no requirement to stay on-site. Students are required to bring their own computers pre-loaded with Mac OS X 10.5.
The first two days, taught by Mark Fenoglio, are devoted entirely to teaching students Objective-C 2. This portion of the class is designed to be accessible to programmers without any experience in C or object-oriented programming. By the end of the two days, students will be fluent in Objective-C and be able to:

Understand and work with classes, objects, methods, data types and expressions
Use inheritance, take advantage of polymorphism and dynamic typing
Use the preprocessor and basic control constructs for looping and decision-making
Retain and release objects correctly to prevent memory leaks
The rest of the week builds on the foundation supplied by the Objective-C instruction and delves into Cocoa, which is an excellent opportunity for those students wanting to become involved in iPhone development.
The Cocoa portion of the class, taught by Aaron Hillegass, promises to teach students how to write complex applications for Mac OS X 10.5 by:

Mastering Interface Builder and Xcode 3
Being able to find and understand the online documentation
Understanding the most common classes in the frameworks
Developing a clear understanding of the design patterns used in Cocoa
Recognizing several common idioms of the Cocoa Community
The Big Nerd Ranch offers intensive training classes for Unix and Mac OS X programmers. Class price of $3300 includes lunch and original instruction materials. Students are encouraged to bring independent projects to class, allowing for input from classmates and individual instructor attention. For more information, call 678-595-6773 or visit bignerdranch.com.
###