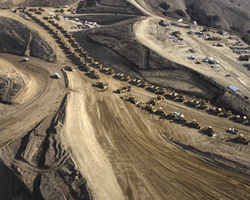 Using GPS technology is useful in reducing contractors' costs in grading even the most complex of projects.
Santa Ana, CA (PRWEB) July 17, 2008
Sukut Equipment, Inc. has expanded its rental division and is now offering nationwide leasing packages and worldwide sales of its extensive fleet of mass grading and excavation equipment. The well-maintained fleet numbers one of the largest in the world with more than 250 pieces of technologically advanced equipment. It is comprised the Caterpillar products.
This major expansion makes available for lease 120 CAT 651 and 657 scrapers, 33 dozers ranging from D10Ls to D-8s, rigid 60- and 100-ton rock trucks, which currently are in short supply on rental and dealership lots.
"We have one of the greenest and most technologically fitted fleets in the world, which is why there has been such a huge demand for our equipment," said Mike Ortiz, president of Sukut Equipment Inc.
Sukut's reputation for environmental stewardship also confers on its mass excavation and grading equipment rental customers a distinct edge over the competition. As the industry leader in exceeding California's strict air quality emission standards for earthmoving equipment, Sukut leases some of the most environmentally advanced machinery in the industry.
Sukut's equipment is also available with global positioning systems (GPS).
"Global positioning system technology speeds up the excavation process with unprecedented accuracy," said Sukut Equipment CEO, Michael Crawford. "Using GPS technology is useful in reducing contractors' costs in grading even the most complex of projects."
Sukut Equipment, Inc. was founded 20 years ago. Prior to offering its fleet for worldwide leasing, its grading equipment has been used primarily by Sukut Construction, Inc., California's largest mass excavation and grading contractor, moving 150 million cubic yards of earth a year.
Sukut Equipment has been named one of the top 25 construction innovators in the world and top 10 green companies in Orange County. Its equipment has been used on some of the country's largest and most complex construction. Its dozers, scrapers and excavators have been put to work on many types of projects including residential, commercial, industrial and retail development mass grading; public works; flood and storm water pipe and structures; highway, roads and infrastructure construction; golf courses and resorts; landfill construction and environmental cleanups; and emergency landslide repair and stabilization. Sukut Equipment is headquartered in Santa Ana, California.
Information is available on the company's website at http://www.sukutequipment.com or by calling Mike Ortiz at 888-785-8801.
###