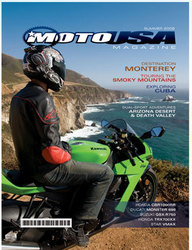 MotoUSA Magazine is a showcase for the motorcycle experience, some of the two-wheeled magic that often gets lost in a jumble of technical jargon, horsepower ratings and repetitious photo collages
Medford, OR (PRWEB) July 17, 2008
Motorcycle-USA.com is proud to introduce MotoUSA Magazine - a coffee-table style publication whose articles focus more on the rides, routes and destinations through informative editorial and remarkable photography. The magazine will be published four times a year and distributed through Motorcycle-USA.com's sister company, Motorcycle-Superstore.com
"MotoUSA Magazine is a showcase for the motorcycle experience, some of the two-wheeled magic that often gets lost in a jumble of technical jargon, horsepower ratings and repetitious photo collages," stated Ken Hutchison, Editorial Director for MotoUSA Magazine. "We're fortunate enough to pass through some amazing places on our voyages, and now we're bringing them to you in glorious color with the best photographers in the business, written by people who truly love riding motorcycles."
Over the past decade, Motorcycle-USA.com has become the online authority for all things two-wheeled offering readers a complete source for motorcycle tests and comparisons along with product reviews, industry news, race results and more.
"The Internet has certainly treated us well over the years," continued Hutchison. "But now it's time to tell the rest of the story. MotoUSA Magazine is designed specifically for the true motorcycle enthusiast - those of us who appreciate the destination, the thrill and the adventure."
The premier issue of MotoUSA Magazine will debut at Mazda Laguna Seca Raceway during the Red Bull USGP Saturday, July 19. For those in attendance, please stop by the Motorcycle-USA.com booth #93 in Turn 3 to pick up your free copy.
"You will find MotoUSA Magazine to be a bit different than the other motorcycle magazines currently on the market," claims Tim Clark, Publisher of MotoUSA Magazine. "You'll notice the minute you have one in your hands - the paper stock, the photography and the insightful editorial - it's all a substantial notch above current industry publications."
The distribution of MotoUSA Magazine through the Motorcycle-Superstore.com website ensures an immediate and sizable readership.
"What also sets MotoUSA Magazine aside from other magazines is our unique form of distribution," explained Clark. "If you are a Motorcycle-Superstore.com customer you will receive a free copy with your order. That automatically puts us on pace for delivering over 320,000 units in our first year. In addition both single issue and annual subscriptions will also be available to purchase online."
For more information regarding MotoUSA Magazine, please contact Tim Clark at 541-772-8150 or via e-mail at tc@541marketing.com
*About MotorcycleUSA.com: MotorcycleUSA.com is the number one Motorcycle Magazine on the Internet with more than 950,000 visits and 4 million page views per month.
*About Motorcycle-Superstore.com: Motorcycle Superstore is an online retailer of motorcycle gear, apparel, parts and accessories. Founded in 1997, Motorcycle Superstore caters to sportbike, cruiser, dirt bike, atv and scooter riders.
# # #