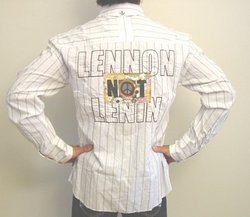 La Habra, CA (PRWEB) July 16, 2008
Perpetual Vogue and http://www.TattooApparel.com are pleased to announce that we now have both designs of the Limited Edition John Lennon Shirts from English Laundry in stock. These two hand sewn button front shirts pay homage to John Lennon. One is called Give Peace a Chance and the other is called Lennon Not Lenin.
Only 350 shirts in each design were made. They are available in sizes Medium through XXL. These English Laundry John Lennon shirts were designed by John Lennon fan, Christopher Wicks who is renowned for his designs for English Laundry, The Hendrix Collection and The Fender Custom Shop . The shirts were hand sewn and include detail work such as embroidery and fabric appliqués. One design features a Peace sign on the front bringing to mind the John Lennon song Give Peace a Chance. The other features a design of a Peace March and details on the front that say, "Save The Children", "Eat The Generals". The back has "Lennon Not Lenin" embroidered on it.
These Limited Edition Shirts can be found at http://www.tattooapparel.com/category/english_laundry/ and at the Perpetual Vogue Retail Boutique in La Habra California. They can be shipped to most locations worldwide.
Perpetual Vogue and TattooApparel.com feature unique street wear fashions favored by Rockers, Musicians and Tattoo Art lovers. We have a retail boutique in Southern California and several Retail Web Sites. Our Premium Product Lines include English Laundry, DOCTRINE, Rebel Spirit, Mission Clothing, Ed Hardy, Hause of Howe, The Hendrix Collection and Fender Custom Shop.
For Additional Information Contact:
Perpetual Vogue - Tattoo Apparel
230 E. Whittier Blvd., La Habra CA. 90631
(888)458-7440
http://www.TattooApparel.com
###