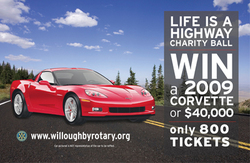 The Corvette raffle is truly a winning opportunity for both the community and a lucky individual
Willoughby, OH (PRWEB) July 16, 2008
You could be driving a new 2009 Corvette down life's highway or deciding how to spend $40,000 on October 4, 2008--if you hold the winning Corvette Raffle Ticket.
The Willoughby Rotary Foundation proudly presents the "Life is a Highway" Charity Ball and Raffle. The Charity Ball is the exclusive fund raiser for the Willoughby Rotary Foundation. Michelle Hauser, Chair of the 2008 Charity Ball Raffle, is excited to kick-off raffle ticket sales for the annual event, to be held at the Kirtland Country Club on October 4, 2008.
In addition to the grand prize of $40,000 cash or the new Corvette, a second prize of $1,000 cash and a third prize of $500 cash will also be awarded. Only 800 raffle tickets will be sold.
Last year was the first year for the raffle. The 2007 winner purchased their ticket online from the Foundation's web site, and elected to take the $40,000 prize.
Over $32,000 was raised at the 2007 Charity Ball and distributed to local charities, scholarships and Rotary programs that demonstrated a meaningful financial need. All proceeds from the 2008 event will be distributed in the same manner. "The Corvette raffle is truly a winning opportunity for both the community and a lucky individual," Michelle Hauser commented.
About the Willoughby Rotary Foundation
Since 1998, the Willoughby Rotary Foundation has contributed over $180,000 to Rotary International humanitarian programs and more than 30 Ohio charitable causes. Charities include the News Herald Clothe-a-Child, The Art Holloway and Christie Montrella Scholarships, Hospice of the Western Reserve, Lake County YMCA, the Salvation Army, local church food banks, and many more. The Foundation is a 501(c)3 charitable organization.
# # #