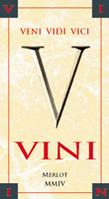 We are the main supplier to the Bulgarian community living stateside
Sonoma, Calif. (PRWEB) July 16, 2008
BulgarianWine.com, America's leading importer of premium Bulgarian wines has surpassed the $1 million dollar milestone in Internet sales of Bulgarian wines. This achievement illustrates the vastly improved quality of Bulgarian wines over the past decade, as well as the attraction to value-priced high quality wines. BulgarianWine.com accomplished this in a short time, indicating an unfolding trend in wine marketing. This niche-market website is among the highest-rated wine retail websites in the country.
BulgarianWine.com showcases premium wines from a dozen of Bulgaria's leading wine producers, as well as one negociant brand, VINI. VINI is produced in Bulgaria under the guidance of Miro Tcholokov, who is also the winemaker for Alexander Valley's Trentadue Winery. VINI produces Merlot and Cabernet Sauvignon, making up the lion's share of BulgarianWine.com's sales. Other brands include Blue Ridge, Domaine Boyar, Targovishte and Peshtera Winery. Since the inception the Internet store, they have received over 7,100 individual case orders exceeding $1 million dollars.
"We are the main supplier to the Bulgarian community living stateside," comments Vance T. Petrunoff, owner of BulgarianWine.com. "Today's wine market is definitely value driven, and Bulgarian wines deliver outstanding quality at very reasonable pricing. As a result, we have been able to introduce thousands of Americans to these great wines too."
Based on the strength of the Internet site, Petrunoff's wholesale distribution business is thriving, where sales figures double that of BulgarianWine.com. Much of this is due to demand from former expatriates and Americans who have traveled to Bulgaria and fallen in love with the wines they found there.
Bulgaria's 2,500-year-old winemaking history is currently experiencing a renaissance. This is due to Bulgaria's entry into the European community in 2007, and premium wineries and new vineyard plantings are on the upswing. Petrunoff brings these wines to the American market. In fact, many of the world's greatest wine producers are looking to Bulgaria as the new frontier for premium wines.
For more information about Bulgarian wines, visit http://www.BulgarianWine.com, http://www.WineImport.com or call (707) 939-8719.
###