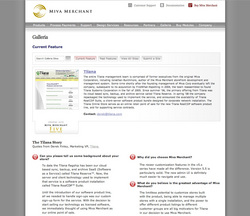 It's great to see our former co-workers thriving as a team again, and with another world-class technology offering
San Diego, CA (PRWEB) July 16, 2008
Tilana is the latest Galleria Feature at MivaMerchant.com (http://www.mivamerchant.com/galleria).
On July 1st Tilana launched its online store featuring annual software licensing for the Tilana RealCDP™ Suite which enables Windows based server and mobile PC networks as cloud based SaaS systems with the robust set of Tilana features and functionality.
The company's decision to use Miva Merchant represents a homecoming for its management team, of whom most are founders of the original Miva Corp.
"We're very happy and proud to be now among the many satisfied users of the Miva Merchant system that we created over a decade ago," said Joe Austin, Tilana CEO and original Miva founder. "It is truly an honor to be chosen as a feature implementation of the technology."
Some time shortly after the founding management of Miva Corp eventually left the company, subsequent to its acquisition by FindWhat-Espotting in 2004, the group reassembled to found Tilana Systems Corporation in the fall of 2005.
"It's great to see our former co-workers thriving as a team again, and with another world-class technology offering," said Rick Wilson, Executive Vice President at Miva Merchant, and formerly VP of Sales at the original Miva Corp. "Licensing for a solid software product like Tilana RealCDP should only be sold through an e-commerce system as solid as Miva Merchant."
See the Miva Merchant Galleria Feature Site story about Tilana at the MivaMerchant.com web site (http://www.mivamerchant.com/galleria).
To learn more about Tilana RealCDP Suite, and to purchase annual licensing, please visit the Tilana online store (http://store.tilana.com).
About Miva Merchant
Founded in 1996, Miva Merchant has deployed over 200,000 online storefronts and provides a leading platform for online enterprises. The Miva Merchant Platform consists of software, services, and a partner network assembled for the purpose of helping to create and enhance online business. Miva Merchant partners are at the forefront in servicing the increasing number of enterprises using the Internet to expand their market reach. Partners can easily and quickly integrate the Miva Merchant platform of applications and API's with their existing services to deliver complete online business solutions. Miva Merchant is a leader in offering the ease of browser-based point and click online business creation, combined with deep customizability and integrated marketing services. For more information about Miva Merchant call 1.858.490.2570 or visit http://www.mivamerchant.com.
About Tilana Systems Corporation
San Diego based Tilana Systems Corporation brings true value to cloud storage, by providing continuous data protection, permanent archival, web & mobile access, version history, and multi-computer synchronization on one balanced, quickly deployed, versatile, and extensible online CDP data protection and storage based synchronization platform.
Storage systems built on the Tilana Cloud platform provide end users the best kind of data protection, with encrypted true real time CDP ("Continuous Data Protection" from automated schedule-free immediate backup transfers), automated multi-computer content synchronization, and secure remote archive, with unlimited version history that enables instant any-point-in-time content recovery from PCs, Web browsers, and mobile devices.
Please visit http://www.tilana.com for more information on Tilana Reserve and Tilana Systems Corp.
The names Tilana™, Tilana RealCDP™, Tilana RealCDP™ Enterprise Suite™, Tilana Client™, Tilana WebClient™, Tilana MobileClient™, Tilana Cloud™, Tilana Reserve™, PayOnce™, and Personal Digital Archive™, as well as their associated pinecone logos and the name, are all trademarks of Tilana Systems Corporation. The words "Cure for the Common Backup™" and "Protection, Access, Synchronization, Anytime, Anywhere, Always™," when used together and in sequence, and whether used in whole or in part, are also trademarks of Tilana Systems Corporation. All other trademarks are the property of their respective owners.
Media Contact
Derek Finley, VP Marketing
Tilana Systems Corporation
619.807.1437
###