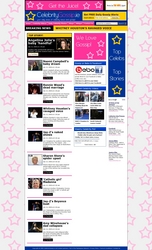 Previously gossip hungry readers relied on glossy magazines for their weekly fix of celebrity news and gossip, but now we're making it more accessible - providing readers with fresh stories several times daily, and delivering it to their email inbox, or Bebo and Facebook profiles
Dublin, Ireland (PRWEB) July 17, 2008
Celebrity Gossip publishes around 10 breaking celebrity news stories daily, 2 new celebrity paparazzi photo galleries daily, daily celebrity videos, and a free Daily Gossip Alerts eZine which keeps subscribers up to date with the latest stories from the world of showbiz. An interactive dimension allows readers to vote on weekly polls, and comment on stories.
The publishers have also developed partnerships with two of the worlds leading social networks, Bebo and Facebook, and have created a 'Celebrity Gossip' application widget which allows users to show the latest headlines from CelebrityGossip.ie on their Bebo or Facebook profile page. The application can be installed via the CelebrityGossip.ie website.
"CelebrityGossip.ie provides a daily fix of celebrity news and gossip to its female readership, and is a hugely unique addition to the Irish online media landscape. There are relatively small number of female-dedicated websites catering for Irish women, which puts us in an excellent position to provide superb value for both our readers and advertisers," says publisher, Hugh Durkin.
"Previously gossip hungry readers relied on glossy magazines for their weekly fix of celebrity news and gossip, but now we're making it more accessible - providing readers with fresh stories several times daily, and delivering it to their email inbox, or Bebo and Facebook profiles," he continues. "With a noticeable shift in media consumption habits away from traditional media, it's important for us to deliver our content direct to where users spend most of their time - on social networks."
Future developments include a mobile edition of the website, and interactive celebrity based digital games.
###