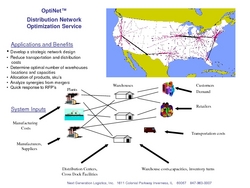 With customers trying to squeeze every penny out of their supply chain, it is imperative that different network scenarios can be quickly evaluated
Inverness, IL (Vocus) July 17, 2008
Next Generation Logistics, Inc. a leading supply chain consulting, managed services, and technology company, today announced a new release of their comprehensive supply chain optimization planning service OptiNet™ Network Optimization that is integrated with their FreightMaster TMS® Transportation Management Suite to reduce transportation and distribution costs.
In today's dynamic business environment companies of all sizes are forced to become more adaptable to ecomonic changes to ensure business efficiencies and therefore are looking for cost effective ways to evaluate and plan their supply chain network more often and more accurately. Our OptiNet™ Network Optimization Service links our sophisticated modeling software tool with current transportation lane costs from FreightMaster TMS®, combined with NGL's analytical expertise to evaluate current, alternative and "green field" network modeling scenarios.
NGL focuses on determining the following results:

Minimum overall cost calculation utilizing manufacturing, co-packer, warehousing, and transportation costs.
Optimal production quantity by sku at each manufacturing plant.
Calculation of the trade-off between cost and service level.
Optimal number, size, and location of warehouses.
Appropriate allocation of products to different plants and warehouses.
"With customers trying to squeeze every penny out of their supply chain, it is imperative that different network scenarios can be quickly evaluated" says Mr. John Riske, VP Business Development. "With this product we can model an existing business network and sit down with senior management teams using a laptop and conduct "What If" simulations within minutes" says Riske.
This combined service with comprehensive technology can be used by customers on an "as needed" basis, such as once a quarter, annually or as part of a client's strategic planning process. Graphical reports can quickly demonstrate both positive and negative cost impacts of alternative network configurations and take into consideration not only transportation costs but also manufacturing, storage costs, and customer demand.
About Next Generation Logistics, Inc.
Next Generation Logistics, Inc. is a leading Supply Chain Consulting, Managed Freight Services, and Technology provider. For the past 20 years, we have worked with companies in the Food & Beverage and Consumer Products Industries, recommending and implementing proven repeatable concepts, strategies, and technology that drive down costs and improve operating efficiencies within our customers supply chains. http://www.nextgeneration.com
###