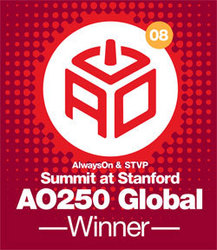 It is an honor to receive recognition as one of the top 250 global private companies based on innovative leadership and market dominance
Naples, FL (PRWEB) July 17, 2008
Neighborhood America, continuing its momentum from receiving a global award in May, today announced that it has been chosen by AlwaysOn as one of the AO Global 250 Winners. Inclusion in the AO Global 250 signifies major developments in the creation of new business opportunities in the global technology industries. Neighborhood America was specially selected by the AlwaysOn editorial team and other industry experts spanning the globe, based on a set of five criteria: innovation, market potential, commercialization, stakeholder value, and media buzz.
Neighborhood America and the AlwaysOn Global 250 Top Private Companies will be honored at the AlwaysOn & STVP Summit at Stanford scheduled to occur on July 22-24, 2008 at Stanford University. This two-and-a-half day executive event highlights the significant economic, political and commercial trends disrupting the global technology industries, and features the most innovative companies, eminent technologists, influential investors and journalists in keynote presentations, panel debates and private company CEO showcases.
Fifty of the top CEOs from the AO Global 250 will present their market strategies to a panel of industry experts in a "CEO Showcase."
"The AO Global 250 winners have excelled in key strategic areas in the global technology markets," said Tony Perkins, founder and CEO of AlwaysOn. "We congratulate them for their success in introducing new tools, services, and platforms that are driving the next phase of innovation and creating real value at an economically uncertain time."
The AO Global 250 was selected from over hundreds of companies, nominated by a panel of industry experts in the online technology, media, entertainment, enterprise and greentech sectors from around the world.
Neighborhood America stood out among the nominees in many ways. First, its ELAvate platform was named the 'best social networking solution' for enterprises, previously honored with the Software Information Industry Association's 2008 Codie Award; second, it retains a focus on strategic and long-term sustainable revenue growth; and third, it has built a leadership team with the experience and vision to assure Neighborhood America's dominance in what is expected to be one of the highest growth segments in the software industry over the next decade.
A full list of all the AO Global 250 winners can be found on the AlwaysOn Web site at http://alwayson.goingon.com/permalink/post/27959
"It is an honor to receive recognition as one of the top 250 global private companies based on innovative leadership and market dominance," said Kim Patrick Kobza, President and CEO of Neighborhood America. "AlwaysOn 250 is a prestigious award that is shared by all of our customers, partners, and employees as well as our shareholders and directors. We extend our thanks to them for placing their trust in us, and to AlwaysOn for recognizing Neighborhood America as a global leader."
About Neighborhood America
Neighborhood America's ELAvate solution was named the software industry's 'best social networking solution' for enterprises, honored with the 2008 Codie Award. ELAvate enables companies to build online and mobile communities to engage consumers, facilitate ongoing dialogue around their brand, and gain continued business intelligence. Brands such as Scripps Networks, FOX News, and Adidas rely on Neighborhood America for its award-winning technology and commitment to guide them through the entire community-building process - from strategy, through implementation, to ultimate success. Learn how your company can gain a competitive advantage by visiting: http://www.neighborhoodamerica.com .
About AlwaysOn
AlwaysOn ignited the open-media revolution in early 2003 by being the first media brand to launch a community blog network. In 2004, AlwaysOn continued to lead the industry in innovation by engaging its bloggers in a social network. AlwaysOn is also revolutionizing the media business by applying its open-media principles to its executive event series (Stanford Summit, OnHollywood, OnMedia, GoingGreen, NordicGreen, and Venture Summit East and West) and quarterly print "blogozine". No other media brand has dared to create such open interaction with its readers and event participants.
###