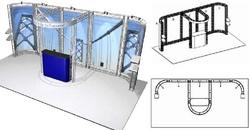 The key to successful use of truss type products has always been the means of assembly. More simply put, connecting one piece of truss to another. Both our primary maufacturers have addressed this problem with innovative new truss products, available in kit forms, with minimal or no tools required for assembly. Both are 6
Bucyrus, KS (PRWEB) July 18, 2008
Trade show truss displays are evaluated at Midland Display based on cost, ease of set up, flexibility, options, reconfigure ability and overall value. After over 25 years in the portable trade show display business, Midland Display discusses which systems in their experience have been best values for their customers.
Chad Leiffert, National Sales Manager for Midland Display, has over 25 years in the trade show display business. He discusses Trade Show Truss and how it lends itself to the tradeshow display environment for a variety of very good reasons.
Leiffert: "It is portable, it has high load-bearing capability, it is easy to wire for electrical needs, it is modular (re-configurable), and it is easy to add on to (for growth/expansion needs). Further, as the popularity of large format graphics is key to current tradeshow efforts, truss lends itself to easy application of large dye-sub or lexan graphics, to templated openings. Truss has an unlimited add-on capability also, as marketing needs such as lighting, shelving, video and product display are easily accomplished."
There are several companies that have addressed the problems of quick and easy setup and tear down of the new display truss systems including Trussworks of Oakland, California and Orbus of Chicago, Illinois. Both of these companies are represented by their largest distributor, Midland Display out of Kansas City, who has been in the tradeshow industry for over 25 years, and have an extensive history of conducting trade show truss display business over the web.
Leiffert: "The key to successful use of truss type products has always been the means of assembly. More simply put, connecting one piece of truss to another. Both our primary maufacturers have addressed this problem with innovative new truss products, available in kit forms, with minimal or no tools required for assembly. Both are 6" box systems, meaning the truss is square and is 6" on each side."
"Orbital Truss by Orbus is a connect, twist and lock procedure. This allows for one piece of truss to be connected to another through the use of a connecting box, whereas one piece is connected at one opening of the box connector, twisted to lock in place, and the other at any one of the three remaining connector openings on the box. Orbital truss only comes in one color (silver) and is set up to ship truck freight."
"The second, and perhaps more appealing connector system is EZ6 by Trussworks in the form of a simple connector bracket applied wherever two pieces of truss need to join. It involves simply placing the connector on the piece to be joined (with another), and mating the two pieces. This is most desirable as load bearing is not compromised, and speed of set up is increased as no other parts are needed. No tools are needed for this system either. EZ6 comes in five colors (black, silver, red white or blue) and is truck or UPS shippable."
"Both of these manufacturers have also put together the products in kit forms. This allows the purchaser to select for a variety of pre-conceived/prepackaged designs, all of which are expandable at a later date."
The kits are available for viewing on-line at Convention Truss. All of the kits available conform to formats from 10x10 standard booth sizes, all the way up to large 40x40 island configurations. Trade Show Display Truss design help is also available from Midland Display's Convention Truss Design Team. It is free, with CAD renderings, incorporating customer supplied graphic inserts when requested. (All are usually done with short lead times as most displays sold by Midland can be shipped within several days.)
Chad Leiffert can be reached at (800) 487-7944 for comment.
###