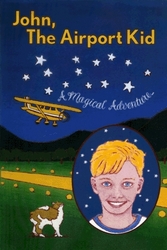 The intimate story of 'John, The Airport Kid' establishes positive feelings toward planes, pilots and airports
Tilghman, MD (PRWEB) July 17, 2008
"John, The Airport Kid," an illustrated children's book by John and Hazel Jopling, is a magical adventure story opening up the world of small airports and the teenagers who work in them. The book will be featured at the Spirit of Aviation 2008 Air Venture Show, the World's Greatest Aviation Celebration, in Oshkosh, Wisconsin July 28-August 3.
Inspired in part by author John Jopling's own life as a teenager working in a small airport, "John, The Airport Kid" is an introduction to the world of flying, pilots and planes at a small, privately run airport in Maryland in the early 1960s. Both of the authors will be participating in the Oshkosh, Wisconsin aviation celebration's Authors' Corner, signing the book, and giving presentations.
"The intimate story of 'John, The Airport Kid' establishes positive feelings toward planes, pilots and airports," said co-author John Jopling. "Airport kids are young people who hang around small, privately owned airports doing any sort of work just to be around the planes they love. In exchange for their work, they often get free flight instruction, and sometimes even room and board. 'John, The Airport Kid' tells the story of one particular boy who deals with the grief over his father's death by following his passion for aviation."
The authors use rich and lively prose to illustrate the day-to-day life of a small, privately owned airport in Maryland. Through hard work and responsibility, John achieves his goal of becoming a pilot and has some magical adventures along the way. While aimed at children, the book's uplifting story will appeal to readers of all ages. John Jopling's 45 years of piloting experience give the book authenticity and real-life thrills.
The book is available for purchase from Amazon, Borders, and through additional wholesale and retail channels worldwide. To learn more about their appearance at the Oshkosh, Wisconsin Air Venture Show, visit JohnTheAirportKid.com.
About the Authors:
John Perry Jopling has been a pilot for over 45 years and is licensed for private, commercial, and instrument flying. A graduate of Boston University, he started his own consulting business specializing in human resources.
Hazel Jopling is an artist who has exhibited in various galleries in New York, Connecticut and Texas. She attended New York University and the Art Students League and worked at the Metropolitan Museum of Art. She is happy to have had a part in the development and completion of "John, The Airport Kid."
###