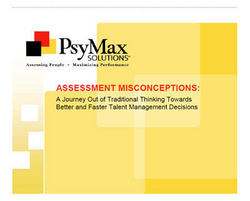 Human capital assessments are a proven business strategy to reduce turnover and its associated costs, increase productivity, and produce a deep pool of talented employees
Cleveland, OH (PRWEB) July 17, 2008
Misconceptions about using assessments abound, but none of them stand up to the scrutiny of fact and experience. This, according to the new white paper by human capital assessment pioneer PsyMax Solutions.
HR professionals readily acknowledge the benefits of assessments, but they tend to push these tests to the bottom of the priority list for a variety of reasons. Assessment Misconceptions: A Journey Out of Traditional Thinking Towards Better and Faster Talent Management Decisions discusses and exposes the most common myths human resource professionals have about assessments.
Misconceptions and myths include:

Assessments are hard to understand.
Assessments are too expensive.
Assessments take months to implement.
Assessments create legal risk.
Assessments are only for new hires.
"Human capital assessments are a proven business strategy to reduce turnover and its associated costs, increase productivity, and produce a deep pool of talented employees," said Thad Meese, PsyMax Solutions COO. "Once misconceptions are cleared up, assessments become a natural, even indispensible, part of human capital management."
To download the new PsyMax white paper, go to http://www.psymaxsolutions.com/assessment-truths/.
Headquartered in Cleveland, Ohio, PsyMax Solutions is a pioneer in the application of smart systems to human capital assessment for employee selection and development. The PsyMax suite of online assessments, reports, and programs creates solutions based upon proprietary Work Style Assessment inventories to help companies identify and interview prospective employees as well as develop and coach employees to maximize performance. For more information, call 866-774-2273 or visit http://www.psymaxsolutions.com.
Media Contact:
Thad Meese, COO, PsyMax Solutions
tmeese @ psymaxsolutions.com
866-774-2273
This press release was distributed through eMediawire by Human Resources Marketer (HR Marketer: http://www.HRmarketer.com) on behalf of the company listed above.
###