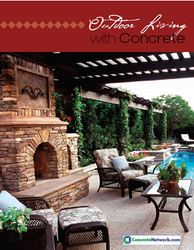 We are seeing more and more homeowners interested in dressing up their outdoor living spaces... people are spending money enhancing their homes, not only as an investment vehicle, but to make living in them more pleasurable
Yucaipa, CA (PRWEB) July 24, 2008
With the price of gas and airfare on the rise, it's no wonder that homeowners are creating custom resort areas in their own backyards by incorporating outdoor living rooms. When compared to indoor living spaces, today's innovations in concrete allow for outdoor living areas to include all of the same amenities and appliances. The new catalog, Outdoor Living with Concrete, provides homeowners and designers a glimpse into the many design possibilities available with decorative concrete applications.
Pages are filled with information on all of today's top decorative concrete options available for creating a custom outdoor living room, including photos, design ideas and more. From fire pits, to pizza ovens, to concrete statuary, and furniture, concrete is the material of choice for transforming ordinary backyard patios into resort-like paradises.
"We are seeing more and more homeowners interested in dressing up their outdoor living spaces... people are spending money enhancing their homes, not only as an investment vehicle, but to make living in them more pleasurable," explains Jeffrey Grieve of Concrete Art in California.
More homeowners are creating multipurpose outdoor rooms by incorporating kitchen areas, as well. Backyard kitchens are quickly outdoing their interior counterparts, with cooking equipment, wine storage units, ranges, dishwashers, refrigerators, storage cabinets and more. Design is also simple with concrete countertops, which are poured into custom molds of any shape and size, from regular rectangular counters, to wraparound bar areas for eating and sharing conversation with the cook.
Read more about concrete.
Established in 1999, The Concrete Network's purpose is to educate consumers, builders, and contractors on popular decorative techniques and applications. These include stamped concrete, stained concrete floors, concrete countertops, polished concrete, and much more. In 2007 The Concrete Network Website had over 11 million visitors researching decorative concrete.
The site excels at connecting buyers with local contractors in their area through its Find a Concrete Contractor service. The service provides visitors with a list of decorative concrete contractors throughout the U.S. and Canada, and is fully searchable by 23 types of decorative concrete work and 202 regional areas throughout North America.
Attached photo courtesy of Woolley's Concrete Resurfacing.
###