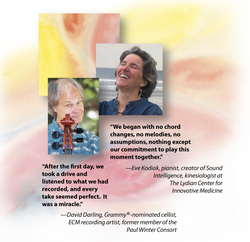 was literally our introduction - the first notes we played together -
Temple, NH (PRWEB) July 17, 2008
When The Return of Desire, the newest book from sex therapist Gina Ogden, Ph.D. arrives in bookstores this week, it will have an unusual accompaniment: A suite of original music, The Return of Desire: Improvisations, composed by David Darling and Eve Kodiak (Darling Kodiak Music) just for the book's release.
Ogden, author of Women Who Love Sex, and The Heart and Soul of Sex, met up with pianist Eve Kodiak in March at one of Ogden's ISIS (Integrating Sexuality and Spirituality) workshops. By chance, Kodiak had brought some of her improvisational compositions to share, and Ogden exclaimed, "We need music for The Return of Desire!" Ogden's vision was to create music that would "invoke my own personal return of desire (meaning life-force energy), with a mood that builds and subsides like the ocean."
Appropriate to the topic, Kodiak felt that she needed a musical partner to create the work. "I wanted to make an album about creating relationship," she explains. "I imagined a duet that would be created in music the way two people begin an intimate conversation, not knowing what will be said or where it may take them." David Darling was the perfect choice. The Grammy-nominated cellist, film composer, and former member of the Paul Winter Consort, has built a four-decade international career on his ability to create riveting music on the spot.
By coincidence, in February Darling had asked Kodiak to come to record some piano tracks for a longtime friend and colleague who was coming to the end of a long battle with cancer. On March 31, Darling replied to Kodiak's inquiry about the Return of Desire project with an enthusiastic "yes" - and then, the sad words that the friend had passed that afternoon. For this reason, The Return of Desire: Improvisations is dedicated to her.
In order to be ready for the July book launch, the album had to be put together in only three months. Darling and Kodiak began their improvisations mid-May at Darling's Blue Adagio Studios in Goshen, CT. "David had said that I could come early, but I didn't know how early," Kodiak says. "So I sat on his lawn between 6 and 8 AM, writing down the riffs of the morning birds. That became our first cut, Intimations."
The two recorded most of the album in an intense three-day period. "After the first day, we took a drive and listened to what we had recorded," says Darling. "Every take seemed perfect. It was a miracle."
After Intimations - which, according to Kodiak "was literally our introduction - the first notes we played together -" the album moves to Imagining You. "This is all about that towering feeling just at the beginning of a relationship," says Kodiak. "But every emotion creates its opposite, and Imagining You leads to a piece in G-minor called Grieving. We come up for air in Breathing Cycles, and that allows us to dance again, into a piece called Entering the Now."
The album continues to flow with the progression of creating relationship, from Mystery to Meeting of Eyes to Who Are You? Who Am I? Who Are We? The last piece, Cycles of Desire, brings back the original feeling hinted at in Intimations, but with a difference: Kodiak and Darling are now playing agreed-upon chord changes and melodies. "It's the process of relationship," says Kodiak. "As you improvise along the way, you begin to find out who you are together."
David Darling, ECM recording artist and artistic director for Music for People, has released many albums over his career including Cello Blue, for which he was nominated for a Grammy in 2002.
Eve Kodiak's first full-length album of improvisational music, Meditations for a New Year's Day, was released on her own label, Sound Intelligence, in 2007. In addition to composing, Kodiak is also a kinesiologist and a licensed BrainGym instructor. She has published a variety of book/CD sets combining music and developmental movement, including the popular Rappin' on the Reflexes, which is in use on five continents.
The Return of Desire: Improvisations is available on CD from Amazon.com and CD Baby. Downloadable versions will also be available from iTunes, Rhapsody, E-Music, and other major on-line music distributors.
For more information, and to hear excerpts of the music, visit darlingkodiakmusic.com.
###