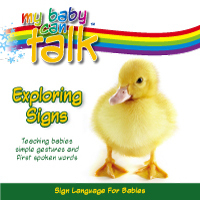 We strongly advocate parents reading to and sharing books with their babies. Not only does this activity bring parents closer to their little ones but it also helps to build a baby's vocabulary, stimulate imagination, and improve communication skills
Scotts Valley, CA (PRWEB) July 22, 2008
Baby Hands Productions, a company founded on the principle that babies can effectively communicate long before they can speak, today announced the release of the My Baby Can Talk™ Board Book series, the latest addition to the highly acclaimed and award winning My Baby Can Talk™ product line. The release of these three board books compliments the existing My Baby Can Talk™ DVD series; offering parents and their babies a complete early language development program recommended by pediatricians, trusted by parents and loved by babies.
The My Baby Can Talk Board Books are truly unique in subject and format with no equal available on the market today. Each page comes alive with the word, a vibrant real world image and a delightful poem for parents to share with their babies. An illustration of the sign and a formal sign description is included for parents to easily learn and offer the sign to their little ones. The My Baby Can Talk™ books are carefully crafted to inspire babies to learn to sign, learn to speak and begin to recognize the written word.
"We strongly advocate parents reading to and sharing books with their babies. Not only does this activity bring parents closer to their little ones but it also helps to build a baby's vocabulary, stimulate imagination, and improve communication skills," said Kathleen Waidhofer, Creative Director of Baby Hands Productions. "When reading is combined with learning sign language, parents begin to recognize the amazing potential of babies to communicate before they can speak. All babies are able to communicate with simple hand gestures, they are simply waiting for their parents to teach them."
Research has shown that babies are able to communicate using baby sign language well before their vocal capacity to formulate spoken words is developed. Babies who use sign language tend to speak sooner with larger vocabularies, show an increase in IQ scores and engage in more sophisticated play. Preverbal signing has also been shown to reduce the frustration broadly associated with "the terrible twos."
The My Baby Can Talk™ board books series is available now from the My Baby Can Talk web site at an MSRP of $9.95 per book. This series will also be available by the end of this summer at the same fine retailers where the award winning My Baby Can Talk™ DVD series is available. Please visit http://www.MyBabyCanTalk.com for more information.
About Baby Hands Productions
Dedicated to providing babies with the power to communicate preverbally, Baby Hands Productions introduced the My Baby Can Talk™ product line in 2004 with the highly acclaimed My Baby Can Talk™ DVD series. This remarkable educational program inspired the growing trend of teaching hearing babies to use baby sign language to communicate. Created to stimulate a baby's love for learning as well as a baby's natural drive to acquire language; My Baby Can Talk™ teaches babies and parents to communicate at an early age, reducing frustration and creating a special bond that is so important for healthy child development.
Honored with eighteen prestigious parenting awards including Parents Choice and reviewed and endorsed by child psychologists, speech pathologists, professionals in the media as well as early childhood educators; the My Baby Can Talk™ DVD series teaches preverbal communication using sign language and is the first program featuring preverbal babies signing all the words presented. Baby Hands Productions' products help parents realize the true potential of their babies and reduce frustration at the same time.
http://www.MyBabyCanTalk.com is the premier resource center on the Internet for babies and signing featuring detailed tutorials, background research, and a video dictionary with more than 200 ASL signs that are most important to and appropriate for babies and toddlers.
# # #