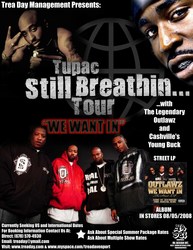 Atlanta (PRWEB) July 18, 2008
Trea Day Management & Publicity recently announced to US and international promoters and venues that they are seeking dates to add on the "Tupac Still Breathin" Tour featuring the legendary Outlawz and Cashville's Young Buck. The popular recording artists are currently slated to perform for audiences from Detroit to Tanzania and Australia. Interested show organizers should contact Trea Davenport at 678.470.4930.
In support of the Outlawz We Want In (Gold Dust Media/1 Nation) LP, set to drop on August 5th, the Tupac protégés just launched their latest video; "Everything Happens 4 A Reason". Director James Wade highlights many of Lawz most popular live shows and performances with Pac.
Young Buck and the Lawz will also promote their new Cashville Takeover Mixtape on the "Tupac Still Breathin" Tour. As independent artists, the Outlawz are constantly on the grind, in the lab and on stages around the world. They have been featured in top music publications from XXL and Source to Murder Dog and Scratch, earning honors as underground legends and boasting a discography that includes some of the most successful rap albums including; All Eyez On Me, Still I Rise, 2 Pac & Outlawz, Better Dayz, and Makaveli.
To Book the "Tupac Still Breathing Tour" contact: Treavion Davenport (Trea Day Management and Publicity) at 678.570.4930.
For information regarding the distribution of We Want In, contact USA Media Director, Stephen Boles (Gold Dust Media) at 718.722.9935.
For More on the Outlawz and We Want In Music News Check Out:
Official Outlawz Myspace
Official Young Noble Myspace
Official EDI Mean Myspace
Official Stromey Myspace
Gold Dust Media Myspace
Trea Day Management & Publicity
###