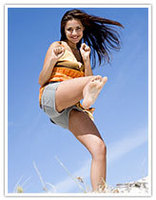 Old Basford, Nottingham (PRWEB) July 19, 2008
Taking the step to quit smoking is a big decision, and one that could change peoples' lives forever. According to recent research, many smokers often use their potential weight gain as an excuse to prevent themselves from stopping smoking. Recent research has suggested that most people gain between 5-15lbs after quitting their smoking habit.
In response to this issue, clinically proven fat binder product Proactol have launched a campaign 'Beat Smoking and Lose weight' to help all their customers who have experienced weight gain after quitting, to lose those extra lbs and have the bodies they desire.
Many doctors recommend that smokers should focus on quitting smoking first, then maintaining or losing weight later. Having spoken to people in this situation, Proactol feel it is possible and healthier for you to do both. By incorporating Proactol into your lifestyle, you can reduce your fat intake by 28%, and experience the satisfaction of being healthy both on the inside and the outside.
We aim to help remove your weight loss fears and kick the habit. Weight gain no longer has to be an obstacle and we know what people are capable of.
The non-surgical choice to weight loss, clinically proven to work
100% natural, Proactol has no known side effects and is clinically proven to help reduce your appetite; decrease your food cravings; remove excess body weight and improve your blood cholesterol levels.
Medically backed by the Medical Device Directive 93/42/EEC, Proactol has undergone 5 successful clinical trials that can offer you guaranteed weight loss results.
Most of our customers experience a natural weight loss of 1-2 lbs a week, simply by taking 2-3 of their herbal supplements after every meal.
Dr Adam Carey, from ITV's Celebrity Fit Club, feels Proactol: '…could provide a kick start for those who find it hard to take control of their weight.'
Proactol understand how important it is for you to focus on your goal of quitting smoking. To help you achieve this they have designed a range of tips and incentives to give you all the support you deserve.
Also, once customers have lost those extra lbs, they can continue to use Proactol to help them maintain their new weight. All you need to do is adjust your supplement intake.
Proactol costs up to £22.56 for 120 tablets* and is available to buy from Proactol.com or by phone on 0115 9798449
*Dependent on Packages
About Proactol:
Created in 1997, Proactol has gone from strength to strength, proving itself to be one of the leading weight loss solutions on the market. Its recent appearances in the Daily Express, Telegraph, The New York Times and Denver Daily News, proves its success has reached far across the world, giving its customers astounding instant results.
For more Information:
For more information on how to set up an interview, receive samples or sign up to a trial with Proactol, please contact Katie Downing-Howitt on either her email katie @ proactol.com or call her number +44 (0) 1159708449 for a chat.
-http://www.proactol.com
-http://www.proactol.com/beatsmokingloseweight.html
Contacts:
UK: 0115 9798449
USA: 1 800 3389957
AUS: 1 800 046194
INT: +44 115 9798449
###