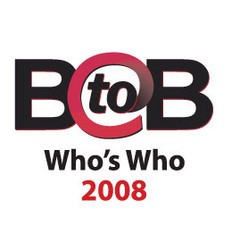 All of the individuals on this year's list have done so much for the marketing industry. I'm pleased to be included.
Traverse City, MI (Vocus) July 21, 2008
From a four-man business in her basement to a 23,000 square foot, state-of-the-art facility on the shores of Grand Traverse Bay, Oneupweb CEO Lisa Wehr has exhibited an unfailing drive to help her clients succeed. And it is this drive that has propelled her to national recognition in BtoB Magazine's Who's Who 2008.
The BtoB Who's Who is an annual salute that honors key thought leaders across a broad spectrum of the marketing world. This year's list recognizes top business-to-business marketing executives in nine categories. Wehr is the first and only individual to be recognized for five consecutive years in the search marketing category.
"This is exciting," Lisa says. "All of the individuals on this year's list have done so much for the marketing industry. I'm pleased to be included."
2008 has been an important year for Lisa and her company as they continue to invest and evolve, working to help define the digital marketing landscape. As a result of their continued innovation and industry-leading services, Oneupweb has welcomed several new clients including: Meijer, Boyne, Banfield, Tracy Porter and more.
Oneupweb has also recently been honored with several Communicator Awards, ProComm Awards, American In-House Design Awards and Hermes Creative Awards.
"I'm honored to be chosen by BtoB for their Who's Who, but it's truly a team effort at Oneupweb," Lisa says. "I work with a group of outstanding individuals who contribute ideas and execute decisions that lead to continued success for our clients."
About Oneupweb:
Oneupweb has been an innovator in digital marketing for more than a decade, creating integrated online marketing plans that include natural search engine optimization, paid search marketing, conversion improvement, podcast production, social media marketing, media placement and search marketing consultation for in-house marketing teams. Oneupweb was recently named a Top 20 Search Marketing Agency by Advertising Age, and CEO Lisa Wehr is recognized as an Ernst & Young Entrepreneur of the Year. The company publishes an award-winning blog and podcast entitled StraightUpSearch. Oneupweb is a privately held company located in Traverse City, Michigan. For more information on Oneupweb, please call 231.922.9977 or visit OneUpWeb.com.
###