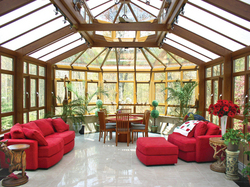 Macedonia, Ohio (Vocus) July 17, 2008 -–
Patio Enclosures, Inc., the largest manufacturer and installer of sunrooms in North America highlights the top ten things to look for in a sunroom.
Perhaps you've recently been in a sunroom or have seen one in a magazine or on TV and are thinking about owning one yourself. Great! Just as there are many different types of homes, there are lots of different sunroom styles constructed using different materials and features. Here are ten things to look for when shopping for a new sunroom.
1. Styles of Roofs and Roof Panels - Make sure that the sunroom company offers a wide choice of sunroom roofs to match your existing homes roof. Do they offer a choice of solid insulated roof panels, or structural insulated panel system (SIPS) that are ENERGY STAR® rated. Can the company build a custom wood roof, or provide a glass roof system to match the style of sunroom you desire?
2. Trim Packages – For enhanced features and to better integrate the looks of your sunroom with your home, ask about trim packages that include interior molding, custom wood ceiling finishes, electrical race ways for lighting and cable connections. Blinds and shades can enhance your sunrooms looks, comfort and provide greater privacy.
3. Glass Options - Since a sunroom is typically comprised of 70 to 95 percent glass, glass selection requires careful consideration. Depending on planned use of your sunroom and orientation to the sun, single pane glass maybe sufficient. However if you plan to extend the seasonal use of your sunroom or use the room year round, double-pane insulated glass should be considered. In addition you may want to consider additional glass options like tints and low-e coatings offered by the sunroom company. These options will enhance comfort by reducing heat gain and loss in both warm and cold weather climates, filter harmful UV rays, and minimize glare.
4. Screens - Unless you want to invite bugs and other critters inside when you open a window, these are very important. Ask whether aluminum screens are available. Nylon and fiberglass screens eventually sag, and grasshoppers like can chew through nylon screens. Aluminum screens are easier to see through and stay cleaner. Screen panel frames on steel ball bearing and nylon wheel rollers reduce track wear and eliminate rust and sticking.
5. Door and Window Locks - Maintaining your home's security is vital so don't overlook locking systems for your sunroom. Dual-point locking systems with top and bottom throw bolts eliminate the need for dead-bolts or lock assisting systems. Secondary night latches allow doors and windows to be kept in partially open position to permit ventilation while maintaining security. They also provide additional latching point out of reach of smaller children.
6. Three Season vs. Year-round Sunrooms - Seasonal sunrooms are not designed to be heated or air conditioned, and in northern climates, can generally be used from early spring to late fall. In Southern climates, a seasonal sunroom can often be used all year based on your selection of glass options. Year-round enclosures use thermally insulated glass, thermal barriers in the frames and can be heated and air conditioned for year-round use in accordance with local building codes. Strongly consider ENERGY STAR ® rated glass doors and windows, and ENERGY STAR® components such as floors and roof panels to ensure the highest energy-efficiency and maximum comfort in a year-round sunroom.
7. Aluminum vs. Vinyl Sunrooms - This is more a matter of what looks best on your home. If you already have vinyl siding, go with a vinyl sunroom. Both aluminum and structurally reinforced vinyl offer clean, rust-free, low maintenance exteriors that will last for decades.
8. Sunroom View - Select a company that can design and manufacture your sunroom so that it fits your home. To meet required dimensions, many sunroom companies use standard sized-doors and windows and opaque filler materials and knee-walls that obstruct an occupants' view of the outdoors and detracts from your home. Look for companies that can provide floor-to-ceiling and wall-to-wall glass for a high-quality custom sunroom look. The point of a sunroom is to provide you an outdoor experience but still maintain indoor comfort. This experience is obviously diminished if you can't see the outdoors.
9. Installation time - The last thing you need are workers tracking through your home for weeks on end. Get a realistic estimate on the time it will take and how soon your new sunroom will be ready to move into. Most established sunroom companies can construct a customized sunroom for you in two to five days depending on the size and complexity of the room after permitting and foundation preparations are complete.
10. ENERGY STAR® Windows and Doors - With energy prices at record highs, this is one option you can't afford to pass on if you plan to use your sunroom year-round. Find a sunroom company that offers insulated windows and doors, roof panels and flooring that are ENERGY STAR® rated for better comfort and lower energy costs. Depending on how long you own your home, these will pay for themselves.
Hopefully, the advice here will help you shop for a sunroom that will provide you with everything you need to add living space, natural daylight and a relaxing place to enjoy an outdoor environment for as long as you own your home. For more information, visit Patio Enclosures or contact a local sunroom design consultant for a free sunroom design consultation.
About Patio Enclosures, Inc.
Patio Enclosures, Inc. has been recognized for several years by Qualified Remodeler Magazine as the Top Performing Sunroom Company in North America. Patio Enclosures, Inc. operates 30 branch locations across the United States and Canada and has more than 750 employee-owners. The company also operates casual living furniture stores in suburban Cleveland and in Pittsburgh.
Links
http://www.patioenc.com/Products/Sunrooms.aspx
http://www.patioenc.com/energystar.aspx
http://www.patioenc.com/
http://www.patioenc.com/Consultation/ScheduleConsultation.aspx
FOR MORE INFORMATION, CONTACT:
Reginald Carter, Public Relations
Patio Enclosures, Inc.
750 East Highland Road
Macedonia, Ohio 44056
phone (330)468-0700 ext. 2278
fax (330) 908-1123
reggie.carter @ patioenc.com
###