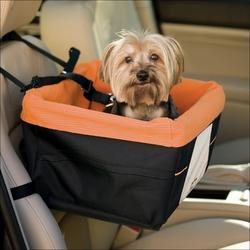 Start by choosing a proper restraint or enclosure system, based on the size of your dog and the kind of car you drive
Portland, ME (PRWEB) July 17, 2008
With gas prices zooming toward $5.00 a gallon, consumers across the country are staying a little closer to home this summer. Creative day trips and long weekends are replacing the epic journey to far-away vacation hide outs.
Taking your dog along makes these trips feel a lot more like little vacations. And less like a cheesy trade-off for a real summer get away.
Innovative dog products available at FetchDog.com - designed for safety, portability and keeping the car tidy - make car-cation a breeze.
"Start by choosing a proper restraint or enclosure system, based on the size of your dog and the kind of car you drive," says Gretchen Kruysman of FetchDog. "It'll keep your dog secure and safe, but also prevents the frenzy of a canine leaping over seats, upturning beverages, and sending Happy Meals all over the place."
Starting with safety in mind, there are dozens of ways to outfit your vehicle, and your dog, fashionably and affordably. And, in consideration of how much you'll be spending on gas, FetchDog has placed its entire collection of dog gear for your car on sale at 20% off. It's all in one convenient place in the Car Travel Shop on FetchDog.com.
Here are just a few of the newest and most stylin' products for getting your Lab off your lap and into a proper travel position:

Buckle up for safety. With just two simple clicks, your dog - even the heftiest hounds - is secure and ready to roll, er, stay put.
The closest thing to space travel in a confined space. Made for dogs up to 30 pounds, the Jump Seat includes a washable, padded liner and a seat belt tether. Collapses easily for storage. Helps prevent car sickness (for the dog).
Practically a magic carpet, 100 percent recycled polyfill liner cushions this affordable and environmentally-sensitive snooze magnet.
Smart and basic lounging protection for the back seat. Thick, quilted cushions made of durable, stain resistant cotton twill.
The ultimate. Ensconces your dog in comfort and doubles as a barrier to keep jumpin' Jack Russell from bounding into the front seat.
Easy to install universal design fits most cars. Protects your dog from sudden stops and allows you to focus on driving, not constantly relocating your dog back into the back seat.
Provides easy access to SUVs, pickup trucks and other lofty places. Easy to carry, supports up to 400 pounds, extends from 40 inches to 68 inches. Foldable for easy storage.
An airy lightweight palace. Dogs feel safe and comfortable. Perfect for sleeping, too, when you get where you're going.
You've got your super-sized iced latte. Now, thanks to this ingenious gyro-balanced water bowl, your parched pup stays hydrated too. Happily slurping without the slopping.
These stylin' feed bags literally fit into your pocket, then unfold to provide secure delivery of food and beverage . . . in the car, at the campground, even at home, they're that cool.
Shopping at FetchDog is a journey into fashion, function and all-out dogaliciousness. You'll find everything from tooth brushes to towels, and from collars to crates. If it's smart, stylish and supremely dog-friendly, it's at FetchDog.
Beyond, just a shopping site, FetchDog is the ultimate resource for you and your dog. The travel with your dogs section contains articles, videos, tips and more about taking Fido on the road.
About FetchDog
FetchDog began as the dream of a bunch of dog-crazy friends with a common complaint--why was there no great place online to shop for our dogs or to connect with dog experts and other dog lovers?
We wanted products that were sturdy, practical, yet beautiful to look at; thoughtfully-designed items that would complement our lives and our lifestyles. Naturally healthy food, treats, and health care products free of chemicals and byproducts. Most of all, we wanted all these things in one convenient place.
That's FetchDog. Shop with us, share with us, at http://www.fetchdog.com.
# # #