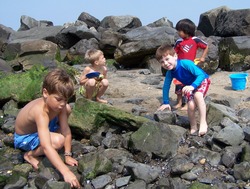 As an expert mom traveler I must advise that boredom, discomfort and hunger equal travel disaster, so be sure to pack snacks and plenty of entertainment for the road.
Interlaken, NJ (Vocus) July 18, 2008
Hana Wolf, CEO and Co-Founder of Little Jet Set, offers tips on where to stay, what to eat, and what to do on a family vacation in Point Pleasant Beach, New Jersey, to be posted on UpTake.com's family vacation blog this month. Wolf also highlights some of her favorite travel toys, games, and activities for families hitting the road this summer, available at LittleJetSet.com
UpTake.com is a vacation search site that has amassed the travel industry's largest database of hotels and attractions, and has analyzed more than 20 million online opinions from other travelers. The site works with would-be travelers to help them make informed decisions about what best fits their travel preferences. Blogs from travel experts like Wolf, are instrumental to help vacationers make an informed decision and to better understand exact travel requirements and expectations.
UpTake approached Wolf to contribute a post to its family travel blog, drawing on her own family travel experiences, and expertise on traveling with children. With summer in full swing, and being a lifelong resident of New Jersey, Wolf opted to spotlight Point Pleasant Beach, in her first blog installment.
"I'm a Jersey Girl and proud of it," says Wolf. "While my days of big hair, hanging out at the mall and listening to Bon Jovi are over, my love of the beach and affection for the Jersey Shore are enduring and I give it top billing for summer family vacations," she adds.
Wolf's post reads like an insider's primer on special programs and events for families to enjoy in Point Pleasant Beach, whether staying for a weekend or a week. She also offers wonderful suggestions for great places to eat and a list of not-to-be-missed attractions.
Wolf is a seasoned attorney turned "mom traveler" who decided to take a break from practicing law to help other parents with the inherent challenges of traveling with children. As co-founder of Little Jet Set, with fellow lawyer Nisha Cordero, she manages an online store that sells travel games, toys puzzles, arts and crafts and countless other fun activities for families on the go, as well as a wide array of children's luggage, backpacks, wash bags and other travel accessories.
Wolf cautions blog readers, "While your kids' happiness is guaranteed once you hit the beach, the same does not hold true for the car ride there." She adds, "As an expert mom traveler I must advise that boredom, discomfort and hunger equal travel disaster, so be sure to pack snacks and plenty of entertainment for the road."
Here's some of Wolf's favorite travel games, toys and activities for the car that parents can find at Little Jet Set.

About Little Jet Set
Launched in June 2007 by Hana Wolf and Nisha Cordero, LittleJetSet.com offers over 700 travel products for children of all ages and interests which respond to the travel needs of today's families.
Little Jet Set provides an outstanding collection of kids' products that foster intellectual, emotional and physical development through creative and interactive play. Best of all, their products are designed and packaged for keeping children organized and occupied while on the road or in the air. You'll find everything from kids' travel size toiletries to a travel blanket and pillow set packed in a small suitcase shaped like a hatbox, to dozens of travel-sized games for all ages.
Many of Little Jet Set's unique toys, games and books have also been recognized for their outstanding designs, concepts and content by different awards organizations and publications including Dr. Toy, Oppenheim Toy Portfolio, iParenting, National Parenting Publications Awards (NAPPA), Nick Jr. Magazine, Parenting Magazine, Creative Child Magazine, American Library Association, American Bookseller and The National Parenting Center. So parents can shop with confidence knowing they are buying products that have been tried and tested!
Little Jet Set believes that the prepared parent is the happy parent on trips. With such a wide online selection, parents can easily find products to keep youngsters completely outfitted for a variety of family excursions including cross-country visits to grandma's or afternoon trips to the park.
For more information about Little Jet Set visit http://www.littlejetset.com
###