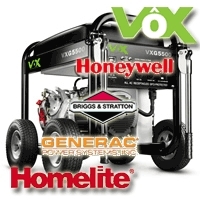 Customers aren't preparing. Retailer stores aren't stocking up. And, manufacturers aren't building massive amounts of inventory this year
Bolingbrook, IL (PRWEB) July 21, 2008
ElectricGeneratorsDirect.com - an online superstore specializing in generators - is preparing for Hurricane season by significantly expanding its portable generator program.
Portable generators sell faster than playoff tickets immediately following a hurricane landfall. During the busy 2004 and 2005 Hurricane seasons, every generator manufactures in the nation ran out of stock.
Since then, there have been plenty of hurricanes. They just haven't hit the United States. As a result, one major manufacturer went bankrupt, and people are becoming complacent.
"Customers aren't preparing. Retailer stores aren't stocking up. And, manufacturers aren't building massive amounts of inventory this year," said Hoch. "We could see a major portable generator backlog again following the first major event of the season."
ElectricGeneratorsDirect.com is diversifying the backorder risk by doubling the number of portable generators for sale. The online superstore is now carrying the following new brands:

Briggs & Stratton Serious-Duty
Honeywell
In addition to offering more brands, ElectricGeneratorsDirect.com is one of the few online retailers actually stockpiling large quantities of portable generators this Hurricane season.
The in-stock generators are reserved for the company's "Priority Shipment" service. ElectricGeneratorsDirect.com guarantees that in-stock generators will ship the same business day if ordered before 4 p.m. EST.
"Priority Shipment significantly reduces delivery times," said Hoch. "Customers can receive their portable generator in just a few business days."
During a disaster, most procrastinators are more than willing to pay the $50 service charge for Priority Shipment. The better option, according to Hoch, is to actually prepare for major power outages before the storms actually strike.
Power Equipment Direct operates four niche online superstores. In addition to ElectricGeneratorsDirect.com, the Bolingbrook, IL-based company operates AirCompressorsDirect.com, PressureWashersDirect.com and SnowBlowersDirect.com.
# # #