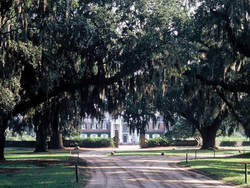 Charleston, SC (PRWEB) July 18, 2008
Professional barbecue teams, musicians and lucky bystanders will assemble at the Annual Southern National BBQ Championship & Bluegrass Festival at Boone Hall Plantation and Gardens in Mount Pleasant on August 31st. Chompin', stompin' and generally having a good time aside, this is a serious competition that attracts barbecue experts from all over the country. Cooking teams compete for prizes in Professional, Amateur and Tailgating categories, while festival attendees enjoy free samples of barbecue (while they last) and can purchase full plates from on-site vendors. Kid's activities keep the little ones happy and the location is a lovely setting for a summer afternoon. Ticket prices are: $20.00 for adults, $7.50 for children 6-12 years, and free for children under 5 years. Parking is free. For a complete festival schedule visit boonehallplantation.com or call 843-884-4371, ext. 221.
Boone Hall Plantation & Gardens, the historic site of the festival, is worth visiting on its own merits as an example of living history. The spectacular approach to the main house, lined with dramatic live oaks and draping moss, has been featured in blockbuster films such as The Patriot and The Notebook. The site has been open to the public for tours since 1956, and a variety of crops have been grown for 320 years. A thoroughly modern market down the road sells the peaches, strawberries, tomatoes, pumpkins and other produce that are popular today.
Bluegrass music has been enjoying a surge in popularity in recent years with movies like the Cohen Brothers' 'O Brother Where Art Thou and artists like Alison Kraus and Vince Gill introducing that "high lonesome sound" to millions of new fans.
ResortQuest is offering visitors to Kiawah Island, Seabrook Island, Isle of Palms and Wild Dunes exciting and exclusive ways to save, all while staying in fully-equipped private homes, villas and cottages. The area offers miles of pristine beach, championship golf, tennis, biking, nature tours, shopping, dining, water-related activities and more. A program called ResortQuest Privileges offers special rates and discounts on activities, tours, dining, and shopping from area venues.
About ResortQuest
ResortQuest, one of the nation's leading vacation rental and resort real estate companies, provides a one-stop resource in North America's premier resort destinations. ResortQuest Charleston is the largest vacation rental company serving Charleston and the beach resort islands of Kiawah, Seabrook, Isle of Palms, Wild Dunes and Sullivan's Island. ResortQuest has offices located on Kiawah Island, Seabrook Island and Isle of Palms, South Carolina.
# # #