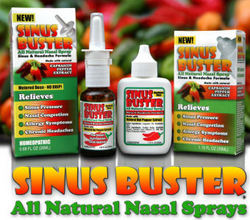 Today's consumers are redefining the healthcare market as they increasingly turn to natural products to treat a variety of conditions and improve their wellbeing. SiCap fulfills these needs with its novel Sinus Buster line of products
Parsippany, NJ (PRWEB) July 18, 2008
Dynova Laboratories has announced the acquisition of SiCap Industries LLC and its innovative line of capsaicin-based products marketed under the Sinus Buster brand. This is the initial acquisition for Dynova Laboratories, a new company with expertise in identifying and building successful OTC brands. Dynova's objective is to bring to market unique and innovative natural supplements that fulfill important, but as yet unmet, consumer needs. All Dynova product launches will meet the company's stringent safety and efficacy criteria, which were established to ensure a high level of user satisfaction. Dynova is backed by Aisling Capital, a private equity fund investing in life sciences companies.
"Today's consumers are redefining the healthcare market as they increasingly turn to natural products to treat a variety of conditions and improve their wellbeing. SiCap fulfills these needs with its novel Sinus Buster line of products," according to Dynova Laboratories CEO Lynne Millheiser-Swanbeck. "While SiCap is the first in the Dynova family of companies, we are aggressively looking for other unique, natural and effective products and technologies."
SiCap founder Wayne Perry commented, "Dynova Laboratories has the marketing muscle and consumer insight, along with the clinical expertise and financial resources necessary to build Sinus Buster into a leading brand in the sinus, allergy and headache marketplace."
Perry first realized the value of capsaicin for headaches when he was sprayed with pepper spray as part of a self-defense demonstration on a local Fox news show. At the time, Perry happened to be suffering from one of his frequent, painful cluster headaches. "I was astounded to realize my headache was gone immediately after being sprayed in the face," he said. Perry went on to research and develop Sinus Buster pepper-based nasal spray, which he subsequently built into a significant Internet-based business.
The Dynova team has extensive experience in both the consumer healthcare and natural supplement industries. Millheiser-Swanbeck joined Dynova from Novartis where she was senior vice president for the North American OTC division. Prior to that, she held a variety of senior level positions at the Warner-Lambert Company and Pfizer, including U.S. head of marketing and sales and as general manager in southern Europe. Jeff Vernimb, vice president, Marketing and Sales, for Dynova was vice president of Global Marketing for Cardinal Health's Oral Technologies group and also held the title of vice president, Marketing for Novartis's OTC division. Jennifer Cooper, Dynova's vice president of Research & Development, has nearly two decades of experience in the dietary supplement and functional food categories, including a twelve year stint at Twin Laboratories.
About Dynova Laboratories:
Dynova Laboratories is an emerging natural products company dedicated to improving consumers' health and wellbeing with safe, clinically effective natural therapies. Dynova's unique mission is to identify small, promising brands, companies and technologies for licensing or acquisition and provide the clinical, marketing, packaging and sales support necessary for success in the dietary or natural supplements category. Based in Parsippany, New Jersey, the company is headed by a team experienced in the consumer healthcare and natural supplement industries. It is backed by Aisling Capital, a leading private equity fund that invests in life sciences companies. For more information visit http://www.dynovalabs.com or call 973.968.7923.
###