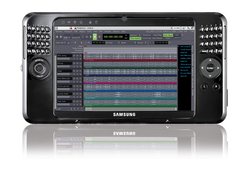 With mobility features such as Instant Messaging, Web browser and Skype, coupled with robust audio applications, Indamixx is designed to compliment our customer's lifestyles, who are as versatile and vertical as the product itself.
Los Angeles, CA (PRWEB) July 21, 2008
Trinity Audio Group Inc. announces today Indamixx, a full featured Linux hand held studio providing a mobile recording environment, allowing users to record, edit, mix, DJ and publish songs or sound files from the field or on the go. Ideal for Producers, Remixers, and DJs. Finally, you can take your studio with you! Pre-loaded software, easy updating and no driver hassles, makes Indamixx an instant audio creation companion.
"I made more music on the Indamixx in one weekend, than I did in a month with my other computer. Whether using the touch screen or hooking up my MIDI keyboard, making music on this ultra mobile computer is just awesome..."
Jørgen Aase - creator of EnergyXT
"With mobility features such as Instant Messaging, Web browser and Skype, coupled with robust audio applications, Indamixx is designed to compliment our customer's lifestyles, who are as versatile and vertical as the product itself." "Indamixx has everything to produce, DJ and publish music from nuts to soup; all you need is your headphones!" says Creative Director Ronald Stewart.
The Indamixx touchscreen allows hands-on fader control with group-based automation in the Ardour DAW, as well as beat mixing and pitch adjustment in Mixxx, the digital DJ application.
Indamixx ships with over 350 classic DJ samples and scratches. Also included are custom drum kits produced by Attack of the SP-1200, Battle Filled Sounds, Cheese Beats, Daren Joseph ('The Whistle Song'), Djrapstar.com, Marde McFly, Musikmann, Mustafa, Ramses Ja, Salt, Squeek Boogie, and The Bakery.
Indamixx is loaded with professional audio software applications:
Award winning DAW energy XT 2.1 - Special Indamixx edition, imagine a handheld pocket sized 'baby Logic' machine that allows you to make songs fast. Multi-track application Ardourino - Ardour 2.4.1 DAW for small screens, JACK server client version of Audacity 1.3.5 with LADSPA plugins. Indamixx also has pre bundled 260 LADSPA Plugins / Effects. Looking for Digital DJ software on a portable device? Indamixx has you covered with
Mixxx 1.6 Digital DJ - Indamixx edition for small screens. Need a loop based drum machine to mash up beats on the fly? Hydrogen Drum machine provides a robust GUI to produce beats, with favorite drum kits such as the 808 and 909. Seq24 - 'Old School' style sequencer with big knobs is always a favorite with the crowd. Want to take your VST's with you in your pocket? Now you can with VST Host. Create your own custom synth with ALSA Modular synth and other synths such as ZynAddSubFX synth. Similar to itunes is Rhythmbox music player a wonderful music player with other 'connected' features such as internet radio, Jamendo and Magnatune. Watch videos and movies with a fan favorite media player Mplayer. Need to pitch correct that track or time stretch it? Rubberband time stretcher will get the job done in no time!
Stream live and keep connected with vital mobility software applications:
Internet DJ Console - Broadcast your audio playlists and let your friends tune into your channel and listen to you 'rock the bells'. Take a call at the same time Skype and reach out to your listeners with instant messaging. Surf the web with Epiphany web browser. After recording a song you can instantly upload it with Indamixx on board FTP client.
Pre Loaded Software 'Suite' with 3 Portable DAW's (Digital Audio Workstations) - Beginner, Advanced, and Professional. No software or drivers to load, just turn on and create music!
Free Updates with customizable Linux operating system (OS)
Key Hardware Benefits:Small Form Factor, 40 Gigabyte Hard Drive, Robust 7" Display at 1024x600, Touch Screen, Built-in Wifi (802.11g), Ethernet Port, VGA Port for external monitor
and two USB 2.0 ports.
File formats: wav, aiff, mp3, flac, ogg
Sample bit rates: 16, 24, 32 at 44.1Khz, 48Khz, and 96Khz
Special Introductory Offer: Individually numbered systems starting at 999.00 using coupon code (ShowMeSomeLove) with free Fedex shipping included (free shipping offer, USA Only) July 21st - August 31st 2008 or while supplies last. Full details of special offer available at: http://www.indamixx.com
Indamixx is available now
Website:
http://www.indamixx.com
All inquiries please contact:
Ronald Stewart
Creative Director
310-733-9285
sales(at)trinityaudiogroup.com
ronaldjstewart(at)gmail.com
About Trinity Audio Group Inc.
Trinity Audio Group Inc. is a Washington state corporation specializing in the production and marketing of affordable, innovative field recorders and portable digital audio workstations.
About XT Software AS.
XT Software is a multimedia company delivering true community-based music software. Founded in 2006, the company puts the needs of the user in focus, rather that the needs of the software developers. The main product of the company, to be found on Indamixx, is the award winning DAW energyXT, which was first released in 2003. The company is based in Norway and are selling products worldwide. Find us at http://www.energy-xt.com
The VST mark and logo is a trademark of Steinberg.
###