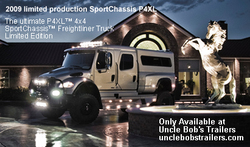 Jamestown, North Dakota (PRWEB) July 18, 2008
Uncle Bob's Trailers in Jamestown, ND, is proud to announce the launch of its new website, unclebobstrailers.com, and this year SportChassis Truck Event in Sturgis, SD. Sturgis is one of the biggest and best bike rallies in the world. Sturgis Bike Week celebrates its 68th year this August 4-10, 2008. Event Website http://www.sportchassis-sturgisexhibition.com
Preview the P4XL -- Visit the website to see the New 2009 limited production SportChassis P4XL. This is the ultimate P4XL™ 4x4 SportChassis™ Truck "Limited Edition." This truck is only available at Uncle Bob's Trailers. http://www.unclebobstrailers.com This truck has many luxury options including:
Extreme Scene Lighting
Night Vision
4x4 Wheel Enhancement Package
Leather Interior
Multimedia Systems by Pioneer®
Rear & Signal Observation Camera's
GPS, Satellite-Ready Audio, Bluetooth™
Ipod® integration and more…
About Uncle Bob's Trailers
Uncle Bob's is a family owned and operated business originally founded in 1985. They have a huge inventory of horse trailers, horse trailers with living quarters, livestock trailers, stock combo trailers and RVs, both new and used.
In 2004 Uncle Bob's RV was named #1 Sundowner Dealer and #1 Sundowner Living Quarter Dealer and following Uncle Bob's award of #1 Living Quarters Dealer for 2003. The future looks very promising as Uncle Bob's is currently ranked to fill the top spot again for this year, said Marty Zachrison of Uncle Bob's RV.
Sundowners aren't the only trailers on Uncle Bob's lot. They are also dealers of Exiss and Sooner trailers and currently ranked as #3 dealers for each of those lines, too. They also have a full line of Bison, Miley, and SportChassis Trucks. In fact, the company averages three units sold each day!
Uncle Bob's RV and Trailers
Corporate Location
Email: sales@unclebobstrailers.com
Toll Free: 800-944-1410
Phone: 701-252-1410
Fax: 701-252-5814
Uncle Bob's Trailers
South Dakota Location
Email: unclebobstrailers@rapidnet.com
Toll Free: 866-987-4827
Phone: 605-787-4828
Fax: 605-787-4830
Canada Location
Call for Details
Toll Free: 800-944-1410
Phone: 701-252-1410
Submitted by http://www.suite171.com
# # #