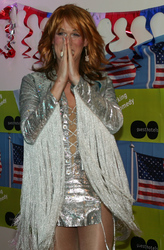 Superbly realised…smart satire and great legs too
London, UK (PRWEB) July 19, 2008
Kicking off the new 'Cultural Concierge Comedy' season at arts club hotel GuestHouse West, the ballsiest comedienne on the circuit will be spreading her controversial political message and unveiling her manifesto to take control of the white house.
To increase her international political profile to match that of Obama and McCain, Tina will perform at the GuestHouse West before saddling up and heading to the Edinburgh festival.
"Catch him/her now before this cult figure becomes so widely known the Daily Telegraph will write about it"

"Superbly realised…smart satire and great legs too"
No doubt that Tina's passionate, and often obsessive fans will litter Notting Hill to hear one of her iconic slogans, as she says: 'Barack Rhymes with Iraq. Think it through. Vote Tina '08.'
This event will kick start Concierge's cutting edge comedy events in London that will regularly take place at GuestHouse West. Guests will enjoy the very best of emerging comedy from London's creative arts scene within the hotel they are staying.
Each of the five Guest Hotels will feature weekly arts events in London and some of the capital's brightest emerging talent has already been signed-up to perform.
To find out more information please visit http://www.guesthotels.com
For media enquiries and further information please contact:
Suzie Barrett, Graz Belli, Rosalind Holley or Henry Warrington at Band & Brown Communications on 020 7419 7000 or email GuestHotels@bbpr.com
Notes to editors
VENUE:
GuestHouse West
ADDRESS:
163-165 Westbourne Grove
Notting Hill
W11 2RS
Guest Hotels Concierge Club
Founder members (open to guests and non-residents)

First Year Annual Membership at a promotional rate of £180 inc vat.
One complimentary night at Jones or Nest (valid for 3 months from first hotel opening subject to availability with a supplement charge for Blakes hotel)
Club benefits apply
Annual Membership (open to guests and non-residents)

First Year Annual Membership at £240 inc vat.
Club benefits apply
Associate Membership (open to guests only)

Anyone booking a night at Guest Hotels and who does not have annual membership to Concierge Club will be given automatic membership for the duration of their stay.
###