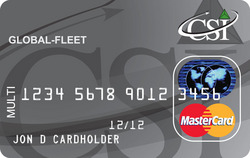 the real savings happen every day when using the CSI Universal Fleet Fuel Card.
Bonita Springs, FL (PRWEB) July 21, 2008
CSI Universal Fleet Fuel Card wants to fill up your tank, a $75 value, for submitting an approved credit application anytime between July 18 and July 31, 2008. Recognized across the Nation as the industry's leading fleet fuel card, fleet businesses of all sizes are saving up to 15% or more on gas and fuel expenses.
"With prices escalating," said Keith Stone, CSI President, "we wanted to do something special for our new clients. In today's market, everyone understands the value of a free tank of gas."
"Besides the free tank of fuel," Stone added, "the real savings happen every day when using the CSI Universal Fleet Fuel Card."
The universally accepted fuel card works at over 180,000 filling stations across the nation. Immediate at-the-pump savings are available at nearly 25,000 stations as part of the CSI Discount Network. Fleet managers can easily identify participating stations online with the CSI Low-Price Locator, used to identify the lowest price fuel by state and zip code.
"By consistently checking prices on specific driver routes, fleet businesses can save three to fifteen cents a gallon," Stone noted. "For any sized fleet business, that adds up to significant savings."
Another significant savings feature found with the CSI Universal Fleet Fuel Card is the unparalleled online card controls. Not only can fleet managers monitor spending in real-time, but also make necessary adjustments to purchasing limits and types, eliminating unauthorized spending.
"We work daily to develop the most advanced and user friendly features that will have a direct impact on the fleet business bottom line," Stone said.
To qualify for the free tank of gas, a $75 value, CSI must receive your credit application between July 18 and July 31, 2008 and subsequently, the application must be approved. A minimum of 5 cards must be activated and an average spend of $5,000 a month for the first three months use. After three months, CSI will issue a $75 fuel credit/rebate to all qualified accounts.
To apply for and learn more about the CSI Universal Fleet Fuel Card, visit http://www.csi-gascard.com.
About CSI Enterprises, Inc
CSI Enterprises Inc. provides a specific line of controlled financial payment products including business fleet fueling/maintenance payment cards, a corporate virtual payment MasterCard® and card solutions for corporate purchasing, travel and entertainment spending. Today CSI and its products operate in all fifty states including Canada, Mexico and Caribbean with operating subsidiaries involved in municipal tax reclamation, venture capital and real estate development activities nationwide. Since 1988, CSI Enterprises Inc. was the first and largest U.S. organization to have a successful corporate asset management and payment network throughout the U.S. and Latin America. CSI MasterCard Corporate Fleet Card is issued by Regions® Bank. 
MasterCard is a registered trademark of MasterCard International, Incorporated.
# # #