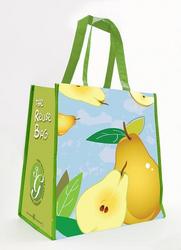 The exceedingly frightening portion of this statistic is that less than 1 percent of those bags will be recycled. The bags are typically discarded after a single use. Unfortunately, there is certainly no shortage of plastic bottles out there. It is our goal to continually stress the
New York, NY (PRWEB) July 20, 2008
everybodygreeen.com introduces The Recycled Pear Bag, a tote bag which is made from recycled plastic bottles; an additional step in their quest to halt the usage of disposable plastic bags.
Keith Berman, Director, states, "It is estimated that Americans alone will discard more than 100 billion plastic bags per year." He continues, "The exceedingly frightening portion of this statistic is that less than 1 percent of those bags will be recycled. The bags are typically discarded after a single use. Unfortunately, there is certainly no shortage of plastic bottles out there. It is our goal to continually stress the "recycle and reuse" aspects of eco - friendly living, while all of us, slowly but surely get more accustomed to living the third "r": Reducing. The Pear bag shall be THE recognized recycled shopping bag out there."
Everybodygreen.com announced last week, that initial sales of The Recycled Pear Bag at a retail level, has exceeded their projections. Mr. Berman says, "We just introduced our bags to a select few retailers this past Monday, and we have been told that the bags are selling at an explosive rate. We could not be more excited that the message of no more disposable plastic bags is becoming clearer every day."
It has now been made ever easier for all of us to stop filling landfills with petroleum based disposable plastic bags. We can utilize reusable bags, such as The Recycled Pear Bag for many varied uses.
The Recycled Pear Bag is available at select national retailers and on the Eco - Shop page of http://www.everybodygreen.com for a "common initiative" low price of $9.95 for five bags including shipping and handling. The beautifully vivid printed Pear Bag measures 11.4" x 15.7" x 7.5".
With an ultimate goal to donate $1,000,000 by the end of 2008, EverybodyGreen.com donates proceeds from each sale to a selection of non-profit organizations, including Oceana, Earth Resource Foundation, The Clean Water Fund, and Heal The Bay. Additional details can be found on the Donation Tracker page of their website.
About EverybodyGreen.com:
EverybodyGreen.com is a dedicated leader in developing cost-efficient green solutions for businesses as well as individuals of all ages. Founded on the commitment to ending further damage to our environment, EverybodyGreen.com serves as an informative destination website providing up-to-date news, green methods, products, and more with the mission to encourage people to take part in preserving the beautiful world we've inherited so that generations to come can live happier, healthier lives on a cleaner, greener planet. For more information, please visit http://www.everybodygreen.com
everybodygreen.com
We're all in this together!
20 W 37th St
8th Fl
NY, NY 10018
O: 212.792.8366
F: 212.714.1554
###