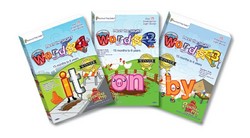 Danville, CA (PRWEB) July 21, 2008
Identifying "sight words" has never been easier thanks to Meet the Sight Words, a new animated DVD series for early learners that engages young eyes with simple, striking visuals. "Meet the Sight Words 1," "Meet the Sight Words 2" and "Meet the Sight Words 3" will be available nationwide just in time for back-to-school on August 12, 2008 for a suggested retail price of $14.95 each.
Produced by the multi-award-winning Preschool Prep Company , founded by Kathy Oxley, Meet the Sight Words DVD series is a powerful tool that teaches children ages 15 months to 6 years to identify over forty five basic sight words. 'Sight Words' are common words that can't be identified by picture cues or don't follow basic decoding rules. These words are taught in pre-k and kindergarten classrooms as "sight words," "instant words," "high frequency words" or "star words." A new reader finds sight words very frustrating until they are memorized. A good reader will be able to instantly recognize sight words without having to 'figure them out.'
The Preschool Prep Company sight words list combines words from the most commonly used kindergarten lists such as Fry Instant Words (Instant Words determined by Fry, Kress and Found in the Reading Teachers Book of List, Fourth Edition ©2000 by John Wiley & Sons, Inc.), Dolch Words (prepared in 1936 by E.W. Dolch) and Houghton Mifflin High Frequency Words (Houghton Mifflin Reading, California Teachers Edition copyright ©2003 by Houghton Mifflin Company).
Preschool Prep Company continues to develop tools that help educate children in their early years. Preschool Prep Company makes learning sight words fun and easy by implementing the same research based technique used in their other award-winning DVDs. "Now children can master sight words with the same rapid speed that they learned letters, numbers, shapes and colors," said Oxley. "Our earlier released DVDs are used in thousands of preschools and daycare facilities with fantastic results. Meet the Sight Words takes us into the kindergarten classroom with results that are proving effective across multiple ages and learning abilities. Children with special needs have had tremendous success with the whole series taking them to levels of learning that their parents didn't know were possible."
Scholastic Instructor Magazine chose the new Meet the Sight Words series as one of their "Teachers Picks." The Old Schoolhouse Magazine "highly recommends" the series saying "This DVD is an animated teaching tool, not a cartoon show."
Previously released DVDs from Preschool Prep, "Meet the Letters," "Meet the Shapes" and "Meet the Colors" have already won over 25 national awards including, Dr. Toy's 10 Best Educational Products Award, Dr. Toys 100 Best Children's Products Award, the Film Advisory Board's Award of Excellence, the Family Choice Award, the iParenting Media Award, Creative Child Magazines DVD of the Year Award for both 2006 and 2007 and the Dove Foundation Seal of Approval. Books in the series include award winning lift-the-flap and board books. Later this year the company will release a series of Sight Words Easy Reader™ Books.
In 2004, Preschool Prep Company conducted a study to show parents that babies can easily learn letters while they are learning to talk. Participants ranging from 12 months to 4 years of age watched Meet the Letters DVD over a two month period. Many learned their letters in less than two weeks. By the end of the study, 90% had complete upper and lowercase recognition.
To order Preschool Prep DVDs call toll free 1-866-451-5600 or visit http://www.preschoolprepco.com.
Press Contact:
Andrea Blain
Andrea Blain Public Relations
9750 Crawford Ave.
Skokie, IL 60076
847-933-9884
andrea @ andreablainpr.com
# # #