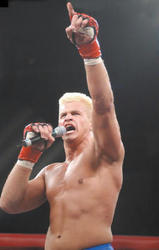 Los Angeles, CA (PRWEB) July 21, 2008
Puder Productions announced today that it will host the "Cops and Robbers" event at the world famous Playboy Mansion partially benefiting the Cops Care Cancer Foundation (a non-profit 501(c) (3). The event will be co-hosted by Undefeated Ultimate Fighter and WWE's $1,000,000 Tough Enough Champion Daniel Puder, Playboy Model Amanda "Dream" Evans, MySpace Star Bobby Billard, and DJ Lady Tribe. The event will be held on August 23, 2008, between 8:00 p.m. and 1:00 a.m.
Leading up to the main party at the Playboy Mansion is an exciting event in Los Angeles, California on August 22, 2008 (for VIP ticketholders) at an exclusive Hollywood hotspot featuring the sexy stars of the Wet T-shirt Wrestling League (WTWL). WTWL and Puder Productions have teamed up to make this huge weekend-long party even more exciting and action-packed. Watch these scantily clad starlets battle it out for this international pay-per-view taping!
Come join the Playboy Playmates and 300 of Puder's hottest Knockouts for an evening of fun featuring music by DJ Lady Tribe, comedy acts by Brad Williams and Tapan, a sexy lingerie fashion show, tours of the world famous Playboy grotto and zoo, and so much more.
Till this Wednesday we are giving $100 off with discount code: puder100
For tickets, to become a sponsor or additional information, please contact Jonathan King at 415.828.0699 or jonathan @ danielpuder.com, and for media please contact Liz Sterling at Liz @ puderpro.com.
About the Cops Care Cancer Foundation:
The Cops Care Cancer Foundation is a Northern California based company, whose mission is to provide financial assistance to children and their families who have been stricken with cancer. They provide financial donations and support to the Lucile Packard Children's Hospital. Their contributions help fund social service programs for children, long term housing costs, prevention programs, research projects and a survivor's scholarship program. In addition to financial donations, the directors donate their time to visit the children and provide motivational presentations. For more information about the Cops Care Cancer Foundation, please contact Brian Simuro at (408) 406-1445 or visit: http://www.copscarecancerfoundation.org.
The Puder Productions Mission:
Daniel Puder Promotions strives to become the leading Event Promotional Company through integrity, honesty, hard work and determination. We want to offer great events with promising athletes, and entertainers and give them a platform from which they can showcase their talents to a global audience and want to offer our viewers and fans high quality programming. Puder Promotions is committed to recruiting, developing and retaining the best and brightest Athletes and Entertainers in the world.
About Daniel Puder:
Daniel Puder is fighting and wrestling full time while throwing events and participating in helping to raise money for Non-profits. Daniel Puder is the first Mixed Martial Art fighter who is only 26 years old and owns his own promotional firm. While Puder focuses on raising money for Non-Profits which is 95% of his focus he will also work to help build his Knockouts.
About Wet T-shirt Wrestling League:
The stars of the Naked Women's Wrestling League are going to cover up a little and debut the NWWL's sister company the WTWL (Wet T-Shirt Wrestling League) as part of a huge weekend long party.
###