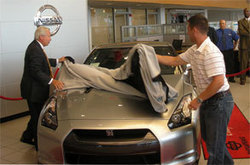 In order to sell the GT-R, Nissan required a certification process and new alignment equipment that cost nearly $70,000. Barry Bright, one of our master mechanic Nissan/ASE technicians was GT-R certified before the car shipped, as was our Service Manager, Jim Sakoman and myself
Chesapeake, VA (PRWEB) July 23, 2008
Hall Nissan Chesapeake yesterday unveiled the first of the long awaited 2009 Nissan GT-R's to arrive in their showroom and the first for the entire Mid-Atlantic Region. The car was only at the dealership for a few hours after the unveiling, as owner Brian Summers from Virginia Beach took delivery of the twin-turbocharged 24-Valve V6, 480 horsepower GT-R that same afternoon.
"After flying an F-18 Hornet for the Navy for 8 years at 300-400 knots, I have to yet find anything as exciting on the ground until the GT-R," said new GT-R owner, Brian Summers. "It's an inspiring legend and is the absolute best car in the world under $100,000. I plan to get it out on the racetrack and see if I can hit that top-speed of 193 miles per hour!"
Nissan is producing approximately 12,000 of the GT-R's (which stands for Grand Turismo Racer) globally with the US getting almost 2500 of the global allocation. The 671 "certified" GTR dealers have already sold 70% of the 2009 US production run. Hall Nissan Chesapeake, a MileOne Automotive dealership, has sold two of their three vehicles and is waiting for the $5,000 deposit required to reserve the last of the cars they will get for the entire year.
"In order to sell the GT-R, Nissan required a certification process and new alignment equipment that cost nearly $70,000. Barry Bright, one of our master mechanic Nissan/ASE technicians was GT-R certified before the car shipped, as was our Service Manager, Jim Sakoman and myself," said General Manager, Richard Geczi. "Because the GT-R is truly an outstanding supercar, Nissan has required us to utilize a customer information and disclosure form to cover the unique characteristics of the vehicle, to ensure the customer does not alter the vehicle. The design of the car is so well thought out that simple adjustments, such as a small change to the turbine-like wheels or a change to the spoiler would affect the car's functioning and performance dramatically. This car is bad to the core"
About MileOne Automotive (http://www.mileone.com)
MileOne Automotive operates 65 retail automotive franchises representing 28 different brands and 9 collision centers in Pennsylvania, Maryland, North Carolina and Virginia with a focus on the Baltimore-Washington, Hampton Roads/Virginia Beach, Nags Head/Elizabeth City and Wilkes-Barre/Scranton major metro areas. MileOne.com allows customers to research new, used and fuel-efficient luxury, import and domestic cars and trucks, send information about vehicles to their mobile device, schedule service appointments, buy parts and accessories, play automotive games, and download automotive wallpaper and mobile ring tones. For more information or to find a quality MileOne dealership near you, please visit http://www.mileone.com.
###