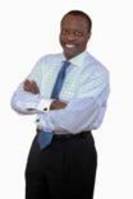 Detroit (PRWEB) July 22, 2008
The Power to Be Free, commercial real estate investing club, proudly adds Master-Closer, Herb Strather, Michigan's own Donald Trump with over 35 years of real estate expertise and 2 billion dollars worth of real estate transactions to its team of top-notch experts in wealth generation and successful real estate investing. Strather is the author of Getting Rich Is Easy: The Master's Guide to Real Estate Acquisition also teaches very well attended classes in real estate investing at Harvard.
Mr. Strather made the decision that would change his life shortly after graduating from the first class of Wayne County Community College in 1970. He decided to enter the real estate business, thus changing his life and the lives of many other's for good and for all. Today Herb is a nationally acknowledged real estate and investment powerhouse. The Power to Be Free is eager and enthusiastic about the veritable gold mine of experience, information and wisdom that Herb Strather will give to all Power to Be Free attendees.
Herb Strather Herb established Strather & Associates, Inc., a Detroit-based real estate brokerage company specializing in acquisition strategy, property management and turnaround projects. His impressive history of famously lucrative real estate transactions includes several multi-million dollar transactions in and around Detroit and abroad. Mr. Strather is a seasoned, tried and well-tested master real estate investor who has very successfully closed on major deals including transactions involving single residence homes, condominiums, low-income housing, major retail properties and mixed-use developments. If he is not Michigan's own 'Trumpster', no one is. Detroit youth would see another vision of their potential if more of them came to know of Herb Strather, his accomplishments and philanthropic work.
The Distinguished Accomplishments of Herb Strather

From 1994-99 Strather initiated a petition drive to bring casino gambling to the City of Detroit, which resulted in three land-based casinos and more than 10,000 new jobs for the city.
In 1998 Strather negotiated land leases on behalf of Hartford Memorial Baptist Church and managed the closing transaction, which resulted in a new 130,000 square foot Super Kmart store in the City of Detroit.
In 1999 Strather began diversifying and formed Atwater Productions, L.L.C. Holding Company, which includes Color Bar Printing; Expressions in Advertising; Fast Forward Group Video; Harmonie Park Creative Group and Original Packaging.
From 1999-2000 he acquired three corners of Grand River & Greenfield and increased business occupancy from 20% to 80%.
Herb Strather led the development team to transform the Jeffries Projects into the new Woodbridge Estates, a $92 million mixed-use, mixed-income residential community of 500 new homes plus a retail center.
A noted philanthropist, Strather spearheaded a $350,000 gift to the Schools of the 21st Century. His donation of $1,000,000 to the Optimist Youth Foundation of Detroit will help youth across America.
A former International Vice President of Optimist International, Strather has built more than 1,900 Optimist Clubs to serve the youth of America. Locally, Strather helped Hartford Memorial Baptist Church acquire and redevelop property. He donated property to Hartford and to Marygrove College.
Strather has made an already stellar organization even more powerful. The Power to Be Free, is positioned to super-charge Michigan real estate to be recognized as the most successful real estate team in Michigan. They will do this by consistently building the most diverse, most experienced and successful group of powerful real estate heavy-hitters, teachers and experts to teach Michiganders how to make money and build lasting wealth via real estate investing. The Power to Be Free is about creating Michigan's next generation of millionaires.
The Power to Be Free and Herb Strather are going to create Michigan Millionaires by providing absolutely the most innovative and effective instruction, guidance and support in building wealth through commercial and residential real estate that has ever been made available to the public. The Power to Be Free will provide unparalleled education and empowerment through their unique team of real estate experts, real estate millionaires and successful financial advisers, which will include only top game players and movers and shakers like Mr. Herb Strathers. With powerful presenters and financial educators such as Herb Strathers, The Power to Be Free Team will be the preeminent source financial empowerment, education and support now and in the future.
Herb Strather and his extensive portfolio of mega-million dollar business transactions and real estate deals quickly stood out as an expert that The Power to Be Free wanted on the team. The Power to Be Free is very proud to present Herb Strathers to individuals who regularly attend The Power to Be Free meetings. These meetings are specifically designed to teach people how to make money in real estate and entrepreneurship. Herb Strather and the co-presenters of The Power to Be Free have a vast amount of experience in the real estate market and some have seen the various cycles of real estate. Mr. Strathers and The Power to Be Free Team know what works and what does not work. Individuals who attend their workshops are guaranteed to walk away with new information regarding:
The Power to Be Free meetings will educate attendees on the following:
Developing the mindset of a super-achiever like Herb Strather.
Creating multiple streams of income with the many aspects of real estate.
Secret strategies on how to eliminate your competition & close more deals.
Herb Strathers method for finding the best deals, uncovering the best prices, and obtaining property in the best locations.
How to "get rich" as revealed in Getting Rich Is Easy.
About The Power to Be Free
The Power to Be Free is a group of successful real estate investors committed to building more financial success through the power of collaboration and networking. In addition to that they are equally committed to empowering and teaching others to build financial wealth and to successfully invest in real estate as well. All The Power to Be Free members have either achieved financial success and are poised to increase their financial rewards or they are new members who are serious about learning how to do what it takes to increase their personal and professional success while also learning to empower and motivate those who will follow them. The Power to Be Free is about exactly what the name suggests; empowering people and communities to gain freedom through financial success and real estate investing. The Power to Be Free is building a veritable army of leading experts in the field of commercial real estate investment and wealth building.
The Power to Be Free includes executives from fortune 100 companies, realtor's who have sold over 4 million square feet of commercial properties and ordinary people who are ready, willing and able to set goals and take the necessary steps to build extraordinary success. The Power to Be Free is not for the faint of heart. It is for true movers and shakers who know that living paycheck to paycheck and relying on a 'boss' or a company to look out for the best interests of one's family and self is not a smart way to live. In the current economic climate of war, skyrocketing gas prices, crippling unemployment and a foreclosure catastrophe, members of The Power to Be Free are ready to take back their power and kiss the so-called 'bosses' good-bye.
The Power to Be Free holds monthly power-meetings to teach members insider secrets and strategies for wealth building and real estate investing. These power-meetings serve to educate, motivate and instigate dynamic change in the lives of every member. Power-meetings are a place and time to free one's self from the negative talk and dire predictions of the world and embrace new ideas, money-making methods, investment strategies and to network with like-minded/ upwardly mobile individuals and experts in the real estate investment and financial education field. Meet the entire Power to Be Free team and Herb Strather this July 24th 2008 at 6:00pm.
The Power to Be Free is not a club. It is team; a dynamic and talented group of individuals from all walks of life and varying degrees of expertise from beginners to professionals who have agreed to join forces and work toward a common goal. The goal of The Power to Be Free is to build and consistently develop and expand The Power to Be Free as the premiere commercial real estate team in the state of Michigan. To find out when and where the next The Power to be Free power-meeting will be held contact The Power to Be Free at 248-477-6111 or ThePowertoBeFree(at)gmail.com
For more information, contact:
Global Virtual Marketing
800-975-6926
[email protected]
http://www.ThePowerToBeFree.com
###